Mouvements du désir
Canada / Switzerland / France, 1994 (fiction, 92 minutes, colour, French)
Also known as "Desire in Motion", "Im Zug der Leidenschaft", "L'instant amoureux", "Movements of Desire"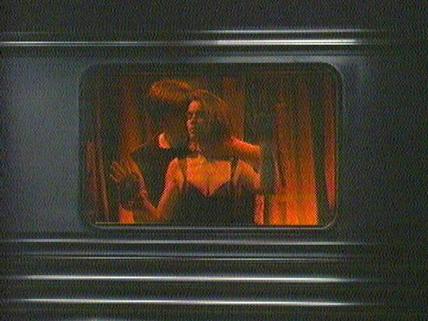 Photo © National Film Board of Canada
---
Film Description [in French] :
"Trois jours et trois nuits d'un voyage unique à bord du Transcontinental. Dans le train, des passagers de tous âges, de toutes nationalités, des passagers drôles, tendres, touchants, des trajectoires qui se croisent pour quelques instants ou pour la vie... Parmi eux, un homme et une femme, Vincent et Catherine. Une rencontre... une grande histoire d'amour à travers les plus beaux paysages du monde dans le décor unique d'un train canadien. Et, peu à peu, nous nous laissons émouvoir par la force des sentiments qui les unissent, le train restant pour nous tous le lieu du rêve, de l'imaginaire et des rencontres inoubliables."
-- Office national du film du Canada (source)
---
Film Credits (partial):
Written by:
Léa Pool
Based on:
Fragments d'un discours amoureux, a novel by Roland Barthes
Produced by:
Denise Robert, Alfi Sinniger, Peter Baumann, Yves Rivard, Daniel Louis
Principal Cast:
Valérie Kaprisky, Jean-François Pichette, Jolianne L'Allier-Matteau, William Jacques, Mathew MacKay, Élise Guilbault, Mimi d' Estée, Lucien Deslongchamps, Marc Gélinas, Gregory Hlady
Cinematography:
Pierre Mignot
Film Editing:
Michel Arcand
Music:
Zbigniew Preisner
Production Company:
Catpics Coproductions, Cinémaginaire Inc., Office national du film du Canada / National Film Board of Canada
(sources)
Notes about Mouvements du désir
Nominated for a Genie Award in the Achievement in Direction category.
(sources)
Quotes by the Director [in French]
"Déjà au casting, je savais que la chimie avait de bonnes chances d'agir entre les deux interprètes. Mais, sur le plateau, j'ai senti que je devais absolument rester toujours un peu en retrait, pour que Jean-François et Valérie, tout en sachant que je suis là, ne ressentent jamais ma présence, et celle de la caméra, comme gênantes, ce qui aurait forcément faussé leur jeu."
-- Léa Pool (source)

"J'ai toujours été fascinée par les trains et l'espace nord-américain. On voit des trains dans plusieurs de mes films. Je me disais que c'était un lieu fantastique pour raconter une histoire parce que le train fait appel à l'imaginaire. C'est un lieu où on peut rêver."
-- Léa Pool (source)

"Je traverse une période heureuse de ma vie, et ça m'a donné envie de faire enfin un film heureux, de parler d'un bonheur presque palpable. J'ai cherché ce qui nous fait le plus vibrer dans la vie, et conclu qu'il n'a rien de plus exaltant que la naissance d'un sentiment amoureux."
-- Léa Pool (source)
Quote about Mouvements du désir
"What elevates the film [Mouvements du désir] from its studied conventionality [...] is the extended iconographic presentation of landscape and the use of the train, whose own relentless passage both contains and parallels the narrative movements of desire."
-- Brenda Longfellow (source)
Quotes about Mouvements du désir [in French]
"Fidèle à sa manière, Léa Pool continue de croire et, par la même occasion, de nous faire croire à l'utilisation judicieuse des symboles. Ici, le long périple de quatre jours en train sert de véhicule à la description psychologique des mouvements du désir, quelque part dans les éphémérides des sentiments. Tout le rythme du film épousera les pulsations et les arrêts du train."
-- Janick Beaulieu (source)

"Mon personnage se disait: 'Mon Dieu, faites que ce train ne s'arrête jamais'. Et je me disais de même. Comme l'homme idéal dans la vie, pour une actrice, il est rare de rencontrer ainsi le film idéal."
-- Valérie Kaprisky (source)

"Trois éléments parmi d'autres contribuent au succès de ce film [Mouvements du désir]. Il s'agit de l'idée riche et féconde du train, de la photographie lumineuse et fort expressive de Pierre Mignot et, par-dessus tout, de cette présence magique et unique autour de laquelle gravite tout le film: Valérie Kaprisky, bien sûr."
-- Luc Perreault (source)
Bibliography for Mouvements du désir
Book Chapters
Longfellow, Brenda. "Gender, Landscape, and Colonial Allegories in The Far Shore, Loyalties, and Mouvements du désir." In Gendering the Nation: Canadian Women's Cinema, edited by Kay Armatage, Kass Banning, Brenda Longfellow, and Janine Marchessault, 165-182. Toronto: University of Toronto Press, 1999.
Newspaper or Magazine Articles
Beaulieu, Janick. "Mouvements du désir." Review of Mouvements du désir. Séquences, March 1994. [in French]
Cloutier, Mario. "'Le film, c'est un outil de recherche et d'expression de soi' / 'J'attendais un rencontre comme celle-là depuis longtemps'." Interview with Léa Pool, Valérie Kaprisky. Ciné-Bulles, Spring 1994. [in French]
Defoy, Michel. "Léa Pool: sons et images." Interview with Léa Pool. Le Droit (Ottawa), February 26, 1994. [in French]
Haïm, Monica. "Voyage au bout de la patience." Review of Mouvements du désir. 24 Images, Spring 1994. [in French]
Kelly, Brendan. "Mouvements du désir (Desire in Motion)." Review of Mouvements du désir. Variety, February 7, 1994.
Perreault, Luc. "Mouvements du désir : La passion, dit-elle." Review of Mouvements du désir. La Presse, February 5, 1994. [in French]
Roberge, Huguette. "Léa Pool tourne un film heureux : L'instant amoureux." Interview with Léa Pool. La Presse, May 8, 1993. [in French]
Roberge, Huguette. "Léa Pool: 'Mon Dieu, faites que ce train ne s'arrête jamais!'." Interview with Léa Pool. La Presse, January 29, 1994. [in French]
Tremblay, Odile. "L'amour du métier." Le Devoir, June 12, 1993. [in French]
Web Sites about Mouvements du désir
---