Midnight's Children
Canada / United Kingdom, 2012 (fiction, 146 minutes, colour, English / Hindi / Urdu)
Also known as "Hijos de la medianoche", "I figli della mezzanotte", "Les enfants de minuit", "Mitternachtskinder", "Os Filhos da Meia-Noite", "Winds of Change"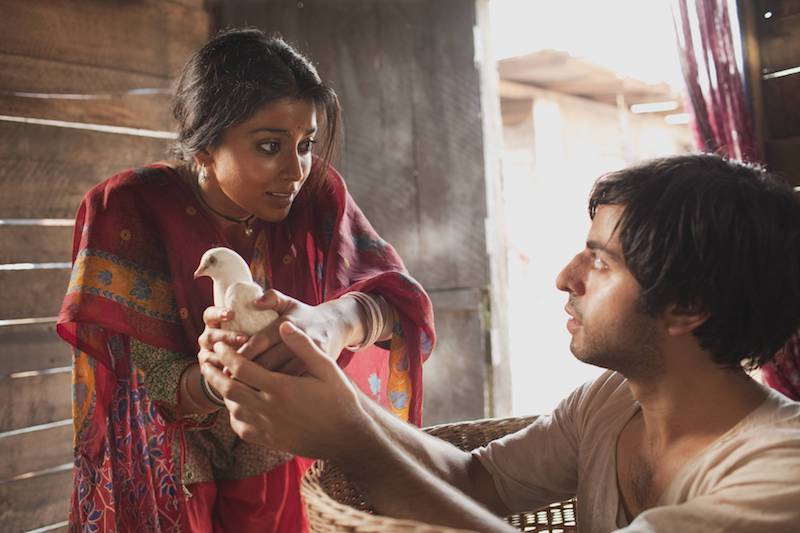 Image: © Mongrel Media
---
Film Description:
"'Born in the hour of India's freedom. Handcuffed to history.' Saleem and his changeling twin Shiva tumble into the world at midnight on August 15, 1947—the moment when India seizes independence from the British Raj. The children born close to Independence Midnight possess special powers and their lives are magically linked to the fate of India, where the fantastic always exists alongside the mundane. Forbidden love, wars, betrayals, and political upheavals tear apart Saleem, his family, and the Midnight's Children. Saleem's humanity and hope are almost extinguished... but hope is hard to annihilate. Based on the best-selling, Booker Prize winning novel by Salman Rushdie, Midnight's Children is an intricately woven, human story: at once epic and intimate, comic and magical."
-- Telefilm Canada (source)
---
Film Credits (partial):
Written by:
Salman Rushdie
Based on:
Midnight's Children, a novel by Salman Rushdie
Produced by:
David Hamilton, Elizabeth Karlsen, Doug Mankoff, Dilip Mehta, Salman Rushdie, Steven Silver, Andrew Spaulding, Neil Tabatznik, Stephen Traynor, Robert Wertheimer, Stephen Woolley
Principal Cast:
Satya Bhabha, Shahana Goswami, Rajat Kapoor, Shabana Azmi, Ronit Roy, Siddharth, Seema Biswas, Shriya Saran, Kulbhushan Kharbanda, Darsheel Safary, Anita Majumdar, Shikha Talsania, Rahul Bose, Zaib Shaikh, Samrat Chakrabarti, Soha Ali Khan, Anupam Kher, Chandan Roy Sanyal, Suresh Menon
Narrator:
Salman Rushdie
Cinematography:
Giles Nuttgens
Film Editing:
Colin Monie
Music:
Nitin Sawhney
Production Company:
David Hamilton Productions, Hamilton-Mehta Productions, Number 9 Films
(sources)
Awards won by Midnight's Children
Notes about Midnight's Children
Filmed in Sri Lanka and Maldives.
Shown at the Toronto International Film Festival in 2012.
Selected as one of the ten best Canadian feature films of 2012 for the Canada's Top Ten Film Festival in 2013.
(sources)
Quote by the Director [in French]
"Pour moi, le plus difficile a été de travailler des scènes avec plusieurs comédiens à la fois et de m'assurer qu'ils offraient tous la meilleure performance possible [dans Midnight's Children]. Normalement, une scène au cinéma, c'est deux ou trois personnes à la fois, alors que nous devions souvent tourner avec toute la famille! Mais j'adore ce genre de défi."
-- Deepa Mehta (source)
Quotes about Midnight's Children [in French]
"Le jeu inégal des acteurs n'est pas à la hauteur des ambitions de ce film qui ratisse trop large, autant dans sa construction narrative que dans sa volonté de synthétiser l'histoire de la décolonisation de l'Inde."
-- Marc Cassivi (source)

"Deepa et moi étions sur la même longueur d'onde. Nos deux listes de scènes à conserver à tout prix dans le film coïncidaient. Mais il fallait couper aussi dans le gras, sacrifier des personnages, des pans entiers. Je crois pourtant que l'essentiel est resté."
-- Salman Rushdie (source)
Bibliography for Midnight's Children
Journal Articles
De Zwaan, Victoria. "Experimental Fiction, Film Adaptation, and the Case of Midnight's Children: In Defense of Fidelity." Literature/Film Quarterly 43, no. 4 (2015): 246-261.
Kuortti, Joel, and Ana Cristina Mendes. "Padma or No Padma: Audience in the Adaptations of Midnight's Children." Journal of Commonwealth Literature 52, no. 3 (September 2017): 501-518.
Articles from Newspapers, Magazines, or News Websites
Cassivi, Marc. "Peu convaincant." Review of Midnight's Children. La Presse, November 10, 2012. [in French]
Émond-Ferrat, Jessica. "Enfants de la patrie." Interview with Deepa Mehta. Métro (Montréal), November 9, 2012. [in French]
Lavoie, André. "Leur vie n'est pas un long fleuve tranquille." Review of Midnight's Children. Le Devoir, November 10, 2012. [in French]
Tremblay, Odile. "Salman Rushdie fait son cinéma : Le film de Deepa Mehta recrée la magie des enfants fantômes du roman Midnight's Children." Interview with Salman Rushdie. Le Devoir, November 3, 2012. [in French]
Web Sites about Midnight's Children
---