Heaven on Earth
Canada, 2008 (fiction, 106 minutes, colour / black and white, English / Punjabi)
Also known as "Le paradis sur terre", "Niebo na ziemi", "Yeryüzü cenneti"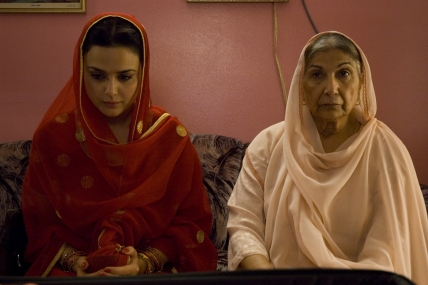 Image: © National Film Board of Canada
---
Film Description:
"Chand leaves her home and loving family behind in India to build a new life in Canada. She moves to Brampton, Ontario and marries Rocky, a man she has never met. Rocky is overwhelmed by the burden of his family: a controlling mother and confused father, and the sister, her husband and two children that he is obliged to support. Bright and well-educated, Chand feels trapped in a world with which she cannot connect. Estranged and mistreated by her new family, homesick and missing her family in India, Chand becomes the brunt of Rocky's frustrations as the pressures of life wear down his basic decency. Having no one to turn to, Chand begins to fantasize another version of her life, one based on an Indian fable."
-- Telefilm Canada (source)
---
Film Credits (partial):
Written by:
Deepa Mehta
Produced by:
David Hamilton, Anita Lee, Mehernaz Lentin, Ravi Chopra, Deepa Mehta, Silva Basmajian, Sanjay Bhuttiani
Principal Cast:
Preity Zinta, Balinder Johal, Rajinder Singh Cheema, Gourrav Sihan, Vansh Bhardwaj, Geetika Sharma, Orville Maciel, Ramanjit Kaur
Cinematography:
Giles Nuttgens
Film Editing:
Colin Monie
Music:
Mychael Danna
Production Company:
Hamilton-Mehta Productions, National Film Board of Canada / Office national du film du Canada
(sources)
Notes about Heaven on Earth
Selected as one of the ten best Canadian feature films of 2008 for the Canada's Top Ten Film Festival in 2009.
(sources)
Quotes by the Director
"In 2007, which is when I started thinking about it, I couldn't understand for the life of me why women did not leave abusive relationships. That was the catalyst or the starting point for delving deeper into abuse."
-- Deepa Mehta (source)

"You've got to understand what working class immigrants go through in our society. Imagine the isolation of a girl taken from her family and the vibrancy of India and sent to desolate Brampton in winter. And not only her isolation. She's got the burden of the entire family."
-- Deepa Mehta (source)
Quotes by the Director [in French]
"Je voulais que l'histoire soit vécue de son point de vue [celui de Chand] dans un monde tangible. Les moments oniriques, qui se résument essentiellement à l'apparition d'un double de Rocky, le mari violent, sont amenés discrètement; je ne souhaitais pas faire un film à effets spéciaux."
-- Deepa Mehta (source)

"Le documentaire [Let's Talk About It] est très différent [de Heaven on Earth]. On y parlait effectivement de violence familiale, mais c'était davantage un film sur la façon dont les enfants qui en sont victimes regardent leur vie. [Heaven on Earth] porte sur l'imagination, et aussi sur ce que c'est que d'être un immigré."
-- Deepa Mehta (source)
Quotes about Heaven on Earth
"Even while underscoring the dark sides of immigration [in Heaven on Earth], [Deepa] Mehta refuses to demonize diasporic communities as sites of cultural and interpersonal dysfunction. By contrast, uncovering the complex rifts and cleaving of immigrant existence and its frequent reliance on formulaic narratives of achievement allows Mehta to expose immigration marriage as imbricated in the transnational fairy tales of globalization."
-- Pavlina Radia (source)

"Deepa Mehta [...] deals very insightfully [in Heaven on Earth] with marriage and Indian female subjectivities, 'at home' or in the diaspora, in relation to their family relations, communities and the status of woman. A diasporan, Mehta daringly approaches the theme of 'homeland' and women who come from the subcontinent in the context of domestic violence."
-- Iulia Răşcanu (source)
Bibliography for Heaven on Earth
Journal Articles
Radia, Pavlina. "Co-Opted Cinderellas and the Transnational Fairy Tales of Globalization: Politicizing the Traffic in Bodily Harm in Deepa Mehta's Heaven on Earth." Women's Studies 45, no. 8 (November 2016): 758-774.
Răşcanu, Iulia. "Young Brides and Non-Resident Indians: Re-Interpreting the East/West; A Sad Story of 'Home' and 'Back Home' in Heaven on Earth, by Deepa Mehta." East-West Cultural Passage, no. 1 (2014): 219-238.
Ridon, Manjeet. "Myth and Patriarchy in Deepa Mehta's Heaven on Earth." International Journal of Punjab Studies 21, no. 2 (March 2014): 223-244.
Articles from Newspapers, Magazines, or News Websites
Chaput, Luc. "Heaven on Earth." Review of Heaven on Earth. Séquences, November-December 2008. [in French]
Dixon, Guy. "'We have no clue': Deepa Mehta confronts domestic abuse in immigrant communities in her new film, writes Guy Dixon." Interview with Deepa Mehta. Globe and Mail, September 9, 2008.
Griffin, John. "Hidden violence hits home in Mehta's Heaven on Earth." Montreal Gazette, October 11, 2008.
Khorana, Sukhmani. "Maps and movies: Talking with Deepa Mehta." Interview with Deepa Mehta. Bright Lights Film Journal, February 2009.
Lévesque, François. "Entrevue : Deepa Mehta : Ouverture et imagination." Interview with Deepa Mehta. Le Devoir, October 25, 2008. [in French]
Monk, Katherine. "Deepa Mehta: A woman who shows no fear." Vancouver Sun, October 4, 2008.
Nicoud, Anabelle. "Heaven on Earth / Deepa Mehta : réalité désenchantée." La Presse, November 1, 2008. [in French]
Sharma, Anita K. "Mehta looks to capture immigrant experience." Playback, September 1, 2008.
Taylor, Lesley Ciarula. "Mehta's film resonates with Indian women; Spousal abuse 'happens everywhere'." Toronto Star, November 4, 2008.
Web Sites about Heaven on Earth
---