Emporte-moi
Canada / Switzerland / France, 1999 (fiction, 94 minutes, colour, French)
Also known as "13 någonting", "Nimm mich mit", "Set Me Free", "Zabierz mnie"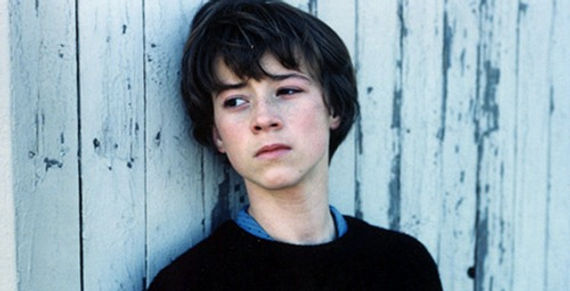 Image: © Catpics
---
Film Description:
"Léa Pool's first autobiographical film. Hanna is 13 years old and 1963 is the year when everything is decided. Between a stateless Jewish father, a Catholic mother, an accomplice older brother and her teacher with a disturbing resemblance to Anna Karina (Nancy Huston), Hanna awakens to the world and tries to become a young woman responsible for her own life."
-- Cinémathèque québécoise (source)

Film Description:
"Léa Pool's latest effort is the deeply moving portrait of a young girl's coming-of-age in the early sixties. Hanna is a 13-year-old caught up in the love/hate relationship of her Catholic Québécoise mother and her Jewish immigrant father (Miki Manojlovic). Her father is a failing poet whose artistic aspirations have put a heavy burden on the family, financially and emotionally. Hanna's long-suffering mother (Pascale Bussières) spends her days in a sweatshop and her nights typing up her husband's work. In the middle of this domestic strife, Hanna is desperate to find her own identity and meaning in life."
-- Liz Czach (source)

Film Description [in French] :
"Dans les années 1960, une adolescente, fille d'un poète juif exilé et d'une mère fragile psychologiquement, s'identifie au personnage central du film Vivre sa vie de Jean-Luc Godard."
-- Michel Jacques (source)
---
Film Credits (partial):
Written by:
Léa Pool, Nancy Huston
Produced by:
Lorraine Richard
Principal Cast:
Karine Vanasse, Pascale Bussières, Miki Manojlovic, Charlotte Christeler, Nancy Huston, Monique Mercure
Cinematography:
Jeanne Lapoirie
Film Editing:
Michel Arcand
Production Company:
Catpics Coproductions, Cité-Amérique, Haut et Court
(sources)
Awards won by Emporte-moi
Notes about Emporte-moi
Shown at the Toronto International Film Festival in 1999.
Nominated for a Genie Award in the Achievement in Direction category.
(sources)
Quotes by the Director
"It was very close to my own story. [...] My mother and brother saw the film and they connected with the story; it's always strange to show such a personal story to family members. But even though Emporte-moi was very autobiographical, it was also inspired by my Jean-Luc Godard fascination."
-- Léa Pool (source)

"[Emporte-moi is] definitely my most personal film. It's about my mother and my father and my life."
-- Léa Pool (source)
Quotes by the Director [in French]
"[Karine Vanasse] avait une sorte d'innocence, de naïveté et de goût de vivre. Karine apportait une lumière au personnage. Je lui ai fait porter le poids de l'imaginaire qui aide à vivre à cet âge-là mais peut aussi faire déraper."
-- Léa Pool (source)

"Pour moi, la musique est indissociable des images. J'écris toujours avec une musique en tête: elle me nourrit en feelings, en émotions; elle me permet de rentrer dans le film [...]. Dans ce cas-ci, c'est la chanson Emporte-moi, interprétée par Marie Laforêt, qui m'a fourni l'élan créateur nécessaire. Les paroles, très belles, m'ont servi de sous-texte."
-- Léa Pool (source)
Quotes about Emporte-moi
"Thirteen-year-old Hanna adores actress Anna Karina on screen, and becomes aware of her nascent lesbian feelings in real life when she kisses teenager Laura."
-- Lucille Cairns (source)

"[Emporte-moi] is immersed simultaneously in the French new wave and the Quebecois cinema of the sixties. In preparation for the shoot, Pool and [cinematographer Jeanne] Lapoirie watched a full program of new wave films, including everything by Truffaut and Godard, whose early masterpieces Les quatre-cent coups (1959) and Vivre sa vie (1962) play [...] key roles in Emporte-moi. Like [Jean-Claude] Lauzon's Léolo, also an important influence, Pool's film combines Montreal locations with a surrealist style and an improvisational, episodic structure."
-- David L. Pike (source)
Quotes about Emporte-moi [in French]
"En écrivant le scénario d'Emporte-moi, Léa Pool a dû sans doute l'infléchir vers ses thèmes de prédilection. C'est ainsi qu'on a du plaisir à la voir renouer avec ses obsessions: la juvénilité, la recherche d'identité, la quête d'une certaine maturité, l'initiation douloureuse à la vie sociale. On n'a qu'à revoir La Demoiselle sauvage, Anne Trister et même À corps perdu. Mais dans Emporte-moi, l'accès à la maturité devient le thème numéro un, car c'est pour la jeune Hanna l'étape la plus importante de sa vie."
-- Maurice Elia (source)

"Emporte-moi est au départ le classique film d'initiation, le passage de l'enfance à l'âge adulte avec les rites transitoires : premières règles, premiers baisers, premières révoltes. C'est le rythme, la fraîcheur des personnages, la finesse des dialogues qui donnent au film sa riche texture dans ce Québec des années 60 renaissant de ses cendres avec les inévitables musiques du temps et un montage sonore très inspiré."
-- Odile Tremblay (source)
Bibliography for Emporte-moi
Book Chapters
Cairns, Lucille. "Mères manquantes and Queer Triangulations: Emporte-moi and Lost and Delirious." In Cinematic Queerness: Gay and Lesbian Hypervisibility in Contemporary Francophone Feature Films, edited by Florian Grandena and Cristina Johnston, 99-116. Oxford: Peter Lang, 2011. [English / French]
Brief Sections of Books
Leach, Jim. Film in Canada. Toronto: Oxford University Press, 2006. (pp. 156-158)
Monk, Katherine. Weird Sex and Snowshoes: And Other Canadian Film Phenomena. Vancouver: Raincoast Books, 2001. (p. 292)
Journal Articles
Gilbert, Paula Ruth, and Miléna Santoro. "Transforming Visions: Pedagogical Approaches to Léa Pool's Emporte-moi (Set Me Free)." Women In French Studies (2006): 139-155.
Leach, Jim. "The Reel Nation: Image and Reality in Contemporary Canadian Cinema (Martin Walsh Memorial Lecture 2002)." Canadian Journal of Film Studies / Revue canadienne d'études cinématographiques 11, no. 2 (Autumn 2002): 2.
Pallister, Janis L. "L'angst de l'adolescente : Emporte-moi de Léa Pool." Nouvelles Études Francophones 22, no. 1 (Spring 2007): 89-108. [in French]
Articles from Newspapers, Magazines, or News Websites
Alioff, Maurie. "Léa Pool: No frontiers." Interview with Léa Pool. Take One (Toronto), Autumn 1999.
Defoy, Michel. "Emporte-moi : C'est un départ." Interview with Léa Pool. Le Droit (Ottawa), February 27, 1999. [in French]
Elia, Maurice. "Emporte-moi : Une petite fille qui n'est plus une petite fille." Review of Emporte-moi. Séquences, May-June 1999. [in French]
Feinstein, Howard. "Pool of desires." The Advocate, May 23, 2000.
Gajan, Philippe. "Retour aux sources." Review of Emporte-moi. 24 Images, Spring 1999. [in French]
Kelly, Brendan. "Set Me Free (Emporte-moi)." Review of Emporte-moi. Variety, February 22, 1999.
Perreault, Luc. "Emporte-moi : Léa Pool avait 'le goût d'une époque' celle de ses 14 ans, dans un Québec des années 60. L'époque des grands choix...." La Presse, February 6, 1999. [in French]
Perreault, Luc. "Emporte-moi : Impudeur contrôlée." Review of Emporte-moi. La Presse, February 12, 1999. [in French]
Stuart, Jan. "Set Me Free." Review of Emporte-moi. The Advocate, May 23, 2000.
Tremblay, Odile. "Une oeuvre séduisante." Review of Emporte-moi. Le Devoir, February 13, 1999. [in French]
Tremblay, Odile. "Voyage au pays du souvenir : Le film le plus personnel de Léa Pool nous plonge au coeur de son enfance." Le Devoir, February 6, 1999. [in French]
Web Sites about Emporte-moi
---