Funny Boy
Canada / United States, 2020 (fiction, 109 minutes, colour, English / Sinhalese / Tamil)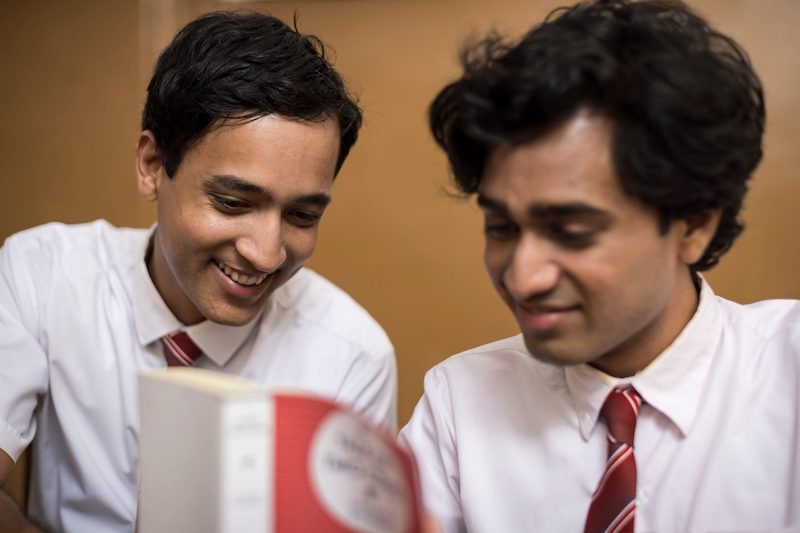 Image: © Array Releasing
---
Film Description:
"A moving look at a young man coming-of-age amid sweeping political strife, Funny Boy follows Arjie from boyhood to his teens in Sri Lanka of the 70's and 80's. Raised in the elegant world of wealthy Tamils, a minority group in a largely majority Sinhalese country, Arjie loves dressing up like a bride for pretend wedding ceremonies with his girl cousins. Oblivious to the whispers between his parents and other relatives, Arjie cannot understand why they call him 'funny,' though he knows it's a 'bad' thing. When his magnetic, free-spirited aunt Radha returns to the family home and embraces Arjie for all that he is, the two develop an unbreakable bond. As Arjie, Radha, and their entire family's lives are irrevocably impacted by simmering tensions in their country that erupt into civil war, an indelible story about love, identity, and freedom unfolds."
-- ARRAY (source)

Film Description [in French] :
"Inspiré d'un roman de Shyam Selvadurai, Funny Boy relate le passage à l'âge adulte d'Arji, jeune homosexuel tamoul interprété par Arush Nand dans l'enfance et par Brandon Ingram dans l'adolescence, alors que se dessine un conflit sanglant entre les Cingalais et les Tamouls."
-- Marc-André Lussier (source)
---
Film Credits (partial):
Written by:
Deepa Mehta, Shyam Selvadurai
Based on:
Funny Boy, a novel by Shyam Selvadurai
Produced by:
David Hamilton, Howard Shore, Gopi Darmaratnam, Moe Rai, Neil Mathieson
Principal Cast:
Agam Darshi, Nimmi Harasgama, Ali Kazmi, Seema Biswas, Rehan Mudannayake, Peter Cockett, Shivantha Wijesinha, Brandon Ingram, Arush Nand, Ruvin De Silva
Cinematography:
Douglas Koch
Film Editing:
Teresa Font
Music:
Howard Shore
Production Company:
Hamilton-Mehta Productions, ARRAY
(sources)
Awards won by Funny Boy
Notes about Funny Boy
Filmed in Colombo, Sri Lanka and in Toronto.
(sources)
Quotes by the Director
"Funny Boy has garnered criticism for not casting enough Tamil actors, a complicated oversight apparent in the language and diction that Western audiences will surely miss. While [Brandon] Ingram isn't Tamil, he is gay (and also quite a good actor), and casting an out gay actor is itself a political choice that was important to both the director and writer."
-- Jude Dry (source)

"All my films are quite political. This [Funny Boy] was a good fit for me, because it's not just a coming-of-age film. It also deals with an oppression of minorities."
-- Deepa Mehta (source)

"Everyone foresaw a fourth film [after Fire, Earth, and Water], the final element. But I thought I was done, till I finished making Funny Boy. When I wrapped up the filming, it struck me that I had actually made [the fourth film] without quite intending to. Funny Boy is my fourth element—the element of space, as opposed to air. It is a temporal space Arjie occupies as a minority Tamil in Sri Lanka, in the in-betweens of his family, his love for Shehan, his upper-caste Sinhalese boyfriend, and the bloody war through which he is trying to find himself."
-- Deepa Mehta (source)

"Funny Boy is based on a beloved book of the same name by Shyam Selvadurai, a Sinhalese/Tamil/Canadian novelist. Even though the book is popular and taught at universities in Sri Lanka, when it came time to make it into a film we faced massive resistance from the authorities. The producer David Hamilton and I, along with the film team (our local Sri Lankan producer) spent nearly a year trying to get permission to film the script. It was rejected twice by the government agency that green lights 'foreign' films. We got lucky with some key allies like David McKinnon and Asoka Handagama, who became staunch supporters and never let us give up."
-- Deepa Mehta (source)

"That wonderful feeling that it's not lit. What's the color palette [in Funny Boy]? It's ochre, it's green, it's blue. It was all real, we didn't light it. We didn't do it in the post, or whatever. We didn't have money to do anything in the post anyways. But it was also about the red of blood when it comes, so the way [Douglas Koch] shot it was always thinking of the emotional core of the scene and always about: 'if this is paradise, wherever paradise is, it can be lost'."
-- Deepa Mehta (source)
Quotes about Funny Boy
"Like Water and her adaptation of Salman Rushdie's Midnight's Children, [Deepa] Mehta shot Funny Boy in Sri Lanka and cast talent from the country and its diaspora—decisions that have come under controversy and sparked calls for a boycott. Tamils have criticized Mehta's casting of Sinhalese people for Tamil characters and the actors' poor grasp of the Tamil language; it is a bitter irony considering that the story depicts the erasure of Tamil culture and existence by the Sinhala."
-- Tina Hassannia (source)

"When Arjie is a boy, his father (Ali Kazmi) pushes him to avoid 'girly things' and instead work on his cricket. But Arjie is encouraged by a cool aunt, Radha (Agam Darshi), who helps cultivate his interest in theater and teaches him to put nail polish on his toes where no one can see. In what becomes a motif, the director [of Funny Boy], Deepa Mehta, cuts to shots of older Arjie sitting in his younger's self's place at crucial moments like this one."
-- Ben Kenigsberg (source)

"26 years after the publication of his novel [Funny Boy], [Shyam] Selvadurai has collaborated with [Deepa] Mehta on the adaptation. The result is more conventionally constructed than the source, a bildungsroman told via six distinct vignettes from the protagonist's early childhood and adolescence, also marking the shifting state of the nation in stark jumps. As a film, Funny Boy is more fluid but less detailed from one act to the next, with a diffuse array of subplots that have limited room to breathe in a tight 109-minute runtime. Perhaps the source would have been best served by a miniseries format; as it is, it's still a spirited, enveloping evocation of a challenging time and place, aided immeasurably by vibrant on-location shooting in the former Sri Lankan capital of Colombo."
-- Guy Lodge (source)

"Funny Boy is a film bursting with powerful performances, particularly Agam Darshi as Radha, Nimmi Harasgama as Arjie's mother, who is sympathetic to the Tamil cause, and Arush Nand and Brandon Ingram as the young and old Arjie respectively. However, in concentrating on performances, Mehta abandons any semblance of accurate Tamil-language diction during the film's Tamil dialogue segments, and the language is mangled in a variety of ways. While this will not be an issue for those relying on subtitles, for those who know the language it will be a major one, detracting from what is otherwise a fine piece of work—though a Tamil language redub is understood to be in the works."
-- Naman Ramachandran (source)

"Funny Boy certainly couldn't be considered hard-edged art cinema, its mainstream polish arguably helping its harsher content slip down a little too smoothly. Nevertheless, it is undeniably executed with unsentimental intelligence, integrity and some bracing mischievousness."
-- Jonathan Romney (source)
Bibliography for Funny Boy
Articles from Newspapers, Magazines, or News Websites
Belliappa, Shruti. "Deepa Mehta on combining queer awakening and war in Funny Boy." Interview with Deepa Mehta. Financial Times (London), December 8, 2020.
Brown, Tracy. "Funny Boy an ambitious story of growing up gay and Tamil in Sri Lanka." Review of Funny Boy. Victoria Times Colonist, December 18, 2020.
Canadian Broadcasting Corporation. "Funny Boy chosen as Canada's Oscars submission for best international film." CBC, October 29, 2020.
Clarke, Cath. "Funny Boy review: Sri Lankan rites-of-passage tale clashes with political reality." Review of Funny Boy. Guardian, December 10, 2020.
Dry, Jude. "Funny Boy review: A gorgeous queer coming-of-age tale set in a divided Sri Lanka." Review of Funny Boy. IndieWire, December 10, 2020.
Friend, David. "Deepa Mehta's Funny Boy no longer eligible for international film Oscar; Film falls short of non-English language requirements, says Telefilm Canada." CBC, December 18, 2020.
Gee, Dana. "Road to new role in Mehta film started long ago; Actor inspired by filmmaker now featured in Funny Boy." Interview with Agam Darshi. The Province (Vancouver), December 3, 2020.
Hassannia, Tina. "Deepa Mehta's Funny Boy is both powerful and problematic." Review of Funny Boy. Globe and Mail, November 26, 2020.
Kenigsberg, Ben. "Coming out in the midst of civil war." Review of Funny Boy. New York Times, December 11, 2020.
Konerman, Jennifer. "Funny Boy: Film review." Review of Funny Boy. Hollywood Reporter, December 8, 2020.
Lodge, Guy. "'Funny Boy' review: Canada's engaging Oscar submission chronicles gay self-discovery amid political upheaval." Review of Funny Boy. Variety, December 10, 2020.
Lussier, Marc-André. "Funny Boy : Parfois puissant, parfois trop appuyé." Review of Funny Boy. La Presse, December 4, 2020. [in French]
Ramachandran, Naman. "Funny Boy watches Sri Lanka's battle lines from the social uplands." Review of Funny Boy. Sight & Sound, December 11, 2020.
Ramos, Dino-Ray. "ARRAY acquires Deepa Mehta's adaptation of 'Funny Boy', filmmaker talks women of color taking award season spotlight." Interview with Deepa Mehta. Deadline, October 15, 2020.
Ravindran, Manori. "Ava DuVernay's ARRAY Releasing buys Deepa Mehta's 'Funny Boy,' with Netflix launch set for December." Variety, October 15, 2020.
Romney, Jonathan. "Funny Boy: Review (Netflix)." Review of Funny Boy. Screen International, December 8, 2020.
Simonpillai, Radheyan. "Funny Boy elicits love and anger from the Tamil diaspora: Funny Boy director Deepa Mehta and author Shyam Selvadurai join NOW's roundtable to confront issues of casting and Tamil erasure in their film." Now (Toronto), November 24, 2020.
Tangcay, Jazz. "How a handheld camera helped 'Funny Boy' DP Douglas Koch capture the space and light of Sri Lanka turmoil." Interview with Douglas Koch. Variety, January 14, 2021.
Web Sites about Funny Boy
---