Sonatine
Canada, 1984 (fiction, 91 minutes, colour, French)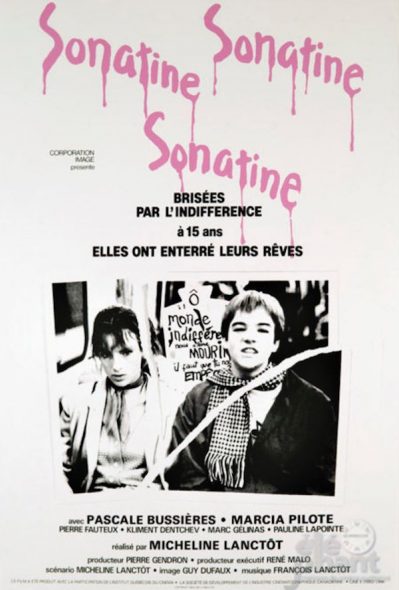 Image: © Les Films René Malo
---
Film Description [in French] :
"Deux adolescentes, en mal d'amour, ne voient plus de raison de vivre dans un monde d'adultes anesthésié, indifférent, aveugle à leur détresse. Le film est composé comme une partition musicale en trois mouvements et joue davantage sur l'atmosphère et l'émotion que sur le discours et l'action."
-- Cinémathèque québécoise (source)

Film Description:
"[Sonatine] is organized around three movements of roughly equal length: in the first, an adolescent, Chantal (Pascale Bussières), pursues an infatuation with a bus driver, taking the same ride every week until he loses his job; in the second, Louisette (Marcia Pilote) has run away from home but finds temporary affection from a monolingual Bulgarian sailor on a ship in the port; in the third, the two girls make a suicide pact and ride around the Metro with a placard proclaiming their intention."
-- Bill Marshall (source)
---
Film Credits (partial):
Written by:
Micheline Lanctôt
Produced by:
Pierre Gendron, René Malo
Principal Cast:
Pascale Bussières, Kliment Denchev, Pierre Fauteux, Ève Gagnier, Marcia Pilote
Cinematography:
Michel Bernier, Yves Drapeau, Guy Dufaux, Michel Girard
Film Editing:
Lucette Bernier, Louise Surprenant
Music:
François Lanctôt
Production Company:
Films René Malo, Corporation Image M & M
(sources)
Awards won by Sonatine
Genie Award: Best Achievement in Direction -- awarded to Micheline Lanctôt
Venice Film Festival: Silver Lion, Best First Film -- awarded to Micheline Lanctôt
Notes about Sonatine
Filmed in Montreal.
Shown at the Festival of Festivals (Toronto) in 1984.
(sources)
Quotes by the Director [in French]
"Dans Sonatine, je suis partie du fait que les adultes passent souvent à côté d'événements qui sont vus comme des tragédies par les enfants. Les enfants qui intériorisent beaucoup portent parfois des peines énormes qui peuvent les conduire au suicide. Dans le cas des deux petites filles de Sonatine, elles ont tout pour être heureuses, du moins en apparence. Mais elles ont une vie intérieure qui les détruit, qu'elles n'arrivent pas à exprimer."
-- Micheline Lanctôt (source)

"Le Lion d'argent [prix de la Mostra de Venise] a été une source de motivation. Juste après la sortie [de Sonatine], j'étais lessivée. D'autant plus que je ne voulais pas nécessairement faire ça de ma vie. La réalisation est arrivée par accident, comme tout le reste, moi qui n'ait au départ qu'une formation musicale. Avant le prix, j'avais complètement perdu confiance. Ça avait été tellement de travail. Deux ans pour le son seulement. J'ai également ressenti longtemps le syndrome de l'imposteur."
-- Micheline Lanctôt (source)
Quotes about Sonatine
"The relationship of older men to younger women is now so tainted with lascivious projections that it is difficult to remember the affirmation a young girl can experience with the attention of an older man. [Micheline] Lanctôt captures that, however [in Sonatine], with minimal dialogue and an astute understanding of gesture."
-- Carole Corbeil (source)

"A film about the inner malaise of two teenage girls on the verge of becoming women, Sonatine (1983) conveys with rare sensitivity the ambiguity of the chaotic transition from puberty to adulthood. [...] Micheline Lanctôt uses a spare mise-en-scène that, through restrained treatment and telling detail, takes us to the heart of the matter: the existential confusion of a generation whose ideals and desire for tenderness run up against the brutality of the world around them."
-- Damien Detchberry (source)

"In essence, Sonatine is an exercise in rhythm and movement and in the evocative potentialities of sound, properties frequently rendered unnoticeable by the psychologized nature of conventional narratives. Like the early films of Robert Bresson, it is a celebration of the formal properties of cinema."
-- Peter Harcourt (source)
Quotes about Sonatine [in French]
"Mieux que dans son film précédent, L'Homme à tout faire, Micheline Lanctôt manifeste [dans Sonatine] un bon tempérament de cinéaste; elle parle d'abord par l'image, évitant d'expliciter par des explications verbales trop appuyées ce qui est d'abord approche intuitive. Elle va même jusqu'à bloquer par moments sur le plan sonore, comme le fait une de ses héroïnes en se bouchant les oreilles, des éclaircissements trop marqués."
-- Robert-Claude Bérubé (source)

"Entre les adolescentes de Sonatine et leurs parents, la rupture est totale. Les parents sont ici les grands absents. Ils n'apparaissent qu'une fois dans le film : ceux de Louisette pour se quereller autour d'elle sans la voir; ceux de Chantai pour la rejeter dans leur silence accusateur. L'unité familiale étant brisée, les jeunes filles orphelines se retrouvent sans passé. C'est pourquoi elles tentent de se constituer une mémoire, orientée vers un port d'attache, en enregistrant sur des cassettes, qui deviennent leur journal intime, les grands et les petits moments d'une existence qui ne va nulle part."
-- Josette Déléas (source)

"Le scénario est rempli d'inconsistances et de longueurs, surtout dans la deuxième partie, et ces faiblesses mettent à rude épreuve la patience du spectateur. La structure est déconcertante : les deux premiers mouvements se présentent comme une introduction longue et fastidieuse au mouvement final."
-- Simone Suchet (source)
Bibliography for Sonatine
Book Chapters
Detchberry, Damien. "Sonatine." In The Cinema of Canada, edited by Jerry White, 120-127. London: Wallflower, 2006.
Donohoe, Joseph I., Jr. "Sonatine in Context: A Neglected Film of Micheline Lanctôt." In Essays on Quebec Cinema, edited by Joseph I. Donohoe, 157-167. East Lansing: Michigan State University Press, 1991.
Harcourt, Peter. "Two Plus Two: Contesting the Boundaries of Identity in Two Films by Micheline Lanctôt." In Gendering the Nation: Canadian Women's Cinema, edited by Kay Armatage, Kass Banning, Brenda Longfellow, and Janine Marchessault, 244-252. Toronto: University of Toronto Press, 1999.
Brief Sections of Books
Marshall, Bill. Quebec National Cinema. Montreal: McGill-Queen's University Press, 2001. (pp. 227-229)
Pallister, Janis L. "Women's Cinema." In The Cinema of Quebec: Masters in Their Own House. London: Associated University Presses, 1995. (pp. 142-144)
Journal Articles
Déléas, Josette. "La quête du père dans le film Sonatine de Micheline Lanctôt." Cinémas 8, no. 1-2 (Autumn 1997): 187-199. [in French]
Joseph I. Donohoe Jr. "Teaching Quebec Film: Reflections of an American Academic." Cinémas 7, no. 3 (Spring 1997): 159-77. [in French]
Suchet, Simone. "Chronique : cinéma : l'adolescence féminine au cinéma; À nos amours! de Maurice Pialat et Sonatine de Micheline Lanctôt." Canadian Woman Studies / Les Cahiers de la femme 5, no. 4 (Summer 1984): 79-80. [in French]
Articles from Newspapers, Magazines, or News Websites
Bérubé, Robert-Claude. "Sonatine." Review of Sonatine. Séquences, July 1984. [in French]
Corbeil, Carole. "Quebec films blessed with visual assurance: Festival of Festivals." Globe and Mail, September 12, 1984.
Detcheberry, Damien. "La tendre indifférence du monde." Eclipses, no. 37, 2005. [in French]
Laverdiere, S. "Sonatine." Review of Sonatine. 24 Images, Spring 1984. [in French]
Tadros, Connie. "Sonatine: film maudit: A conversation with director Micheline Lanctôt." Interview with Micheline Lanctôt. Cinema Canada, September 1984.
Variety. "Sonatine." Review of Sonatine. Variety, September 19, 1984.
Web Sites about Sonatine
---