Opera School
Canada, 1952 (documentary, 35 minutes, black and white, English)
Also known as "La classe d'opéra"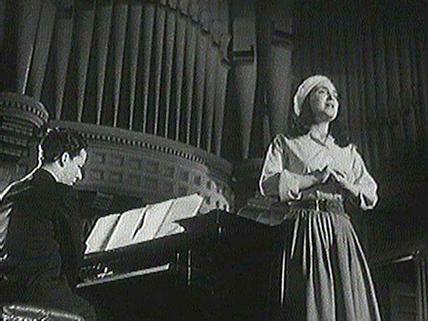 Image: © National Film Board of Canada
---
Film Description:
"How a young singer spends three years at the opera school of the Royal Conservatory of Music, Toronto, preparing for an operatic career."
-- National Film Board of Canada (source)
---
Film Credits (partial):
Written by:
Lister Sinclair
Produced by:
Guy Glover
Cinematography:
Denis Gillson
Music:
Louis Applebaum
Production Company:
National Film Board of Canada / Office national du film du Canada
(sources)
Award won by Opera School
Quotes about Opera School
"The film [Opera School] is made with humour and a feeling for character. Both staff and pupils are acutely observed; the script, by a well-known Canadian radio writer, manages to be entertaining as well as informative, and Gudrun Parker (who made Children's Concert handles it with liveliness and skill."
-- Monthly Film Bulletin (source)

"How to make an Opera Star. Does that sound like the kind of film you'd be fascinated by? Me neither. [..] Yet for a non-opera fan, I found myself keenly interested yesterday at the Towne Cinema, when I went to see The Brave Bulls and stayed over to enjoy the National Film Board picture with it, Opera School. [...] It is a documentary, but with the added interest of a dramatic progression—that is, the advance of one pupil through three years at Opera School. It is a documentary, with no narrator. Lister Sinclair's scenario tells its own story as it goes along, never has to nudge us so we know what we're seeing, or to point out a moral. Produced by Guy Glover and directed by Gudrun Parker, Opera School was made here [in Toronto], mostly at the corner of University and College St., where the Royal Conservatory Opera School has its being and, to judge from this film, flourishes mightily."
-- Herbert Whittaker (source)
Bibliography for Opera School
Articles from Newspapers, Magazines, or News Websites
Canadian Press. "'Opera School' well received at film festival." Ottawa Citizen, September 1, 1951.
Monthly Film Bulletin. "Opera School, Canada, 1951." Review of Opera School. Monthly Film Bulletin, vol. 19, no. 216, January 1952.
Whittaker, Herbert. "Show business." Review of Opera School. Globe and Mail, November 22, 1951.
Web Sites about Opera School
---