SHAMELESS: The ART of Disability
Canada, 2006 (documentary, 72 minutes, colour, English)
Also known as "Sans honte : l'art d'être handicapé"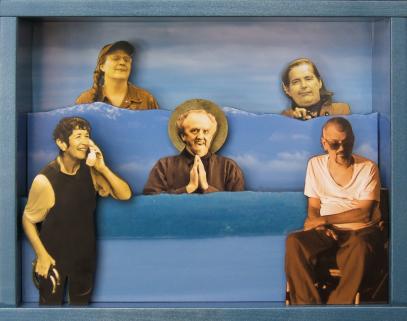 Image: © National Film Board of Canada
---
Film Description:
"Art, activism and disability are the starting point for what unfolds as a funny and intimate portrait of five surprising individuals. Director Bonnie Sherr Klein (Not a Love Story, and Speaking Our Peace) has been a pioneer of women's cinema and an inspiration to a generation of filmmakers around the world. SHAMELESS: the ART of Disability marks Klein's return to a career interrupted by a catastrophic stroke in 1987. Always the activist, she now turns the lens on the world of disability culture, and ultimately, the transformative power of art. Joining Klein are a group of artists with diverse (dis)abilities. Humourist David Roche is taking his one man show, The Church of 80% Sincerity, to New York's off-Broadway. Poet and scholar Catherine Frazee is navigating a jam-packed schedule of teaching and speaking engagements. Dancer, choreographer and impresario Geoff McMurchy is organizing KickstART, an international festival of disability art. Sculptor and writer Persimmon Blackbridge is creating mixed media portraits from 'meaningful junk'. [...]"
-- National Film Board of Canada (source)
---
Film Credits (partial):
Written by:
Bonnie Sherr Klein
Produced by:
Tracey Friesen, Rina Fraticelli
Participants:
Mac Blades, Marlena Blavin, Michael Klein, Patricia Seeley, Corey Fischer, Charlene Curtiss, JoAnne Petroff, Louie, Brenda Zabolotny, Carolyn Novog, Shawn Robinson, Melanie Panitch, Penny Schincariol, Sara Hillis, Erica Johnson, Naomi Klein, Zoe Klein-Johnson, Avi Lewis, Seth Klein
Cinematography:
Kirk Tougas
Film Editing:
Lara Mazur
Production Company:
National Film Board of Canada / Office national du film du Canada
(sources)
Quotes by the Director
"A filmmaker said they wanted to make a film about me. And they began, interviewing me and bringing the cameras over, and I really didn't like it. I felt like I was out of control. I wanted to make a film where I, and other disabled people, were in control of the process."
-- Bonnie Sherr Klein (source)

"I'm in a unique position: people identify with me, especially people who knew me, because I wasn't disabled until I was 46. So I know those fears people have of being disabled. This film is about talking back to stereotypes of disability—and that I lived through everyone's worst nightmare."
-- Bonnie Sherr Klein (source)
Bibliography for SHAMELESS: The ART of Disability
Articles from Newspapers, Magazines, or News Websites
Brymer, Lois. "Shameless: The Art of Disability." Review of SHAMELESS: The ART of Disability. CM, June 8, 2007.
Cohen, Raymond D. "Shameless: Bonnie Sherr Klein talks about her new film." Interview with Bonnie Sherr Klein. Abilities, no. 68, Autumn 2006.
Griffin, Kevin. "No heroes, no tragedy in profiles of disabled: Documentary maker Bonnie Sherr Klein took 18 years to recover enough from a stroke to make a film about the experience—hers and others." Vancouver Sun, May 19, 2006, Final, Arts & Life.
Hays, Matthew. "The possibilities in disability: After two strokes, Bonnie Sherr Klein couldn't imagine doing another film. This year, she returns to the screen." Globe and Mail, August 25, 2006.
Kivisild, Emma. "Shameless." Interview with Bonnie Sherr Klein. Herizons, Spring 2007.
Knight, Chris. "Overcoming adversity, sans heroics: Doc Soup's opening film." Review of SHAMELESS: The ART of Disability. National Post, October 4, 2006, Arts & Life.
Zacharias, Yvonne. "Disabled filmmaker focuses on challenges: Roberts Creek pyjama party gives birth to National Film Board work about five physically challenged people." Vancouver Sun, May 12, 2007.
Web Sites about SHAMELESS: The ART of Disability
---