Le sexe des étoiles
Canada, 1993 (fiction, 104 minutes, colour, French)
Also known as "Das Geschlecht der Sterne", "El Sexo de las estrellas", "Sex and the Stars", "The Sex of the Stars"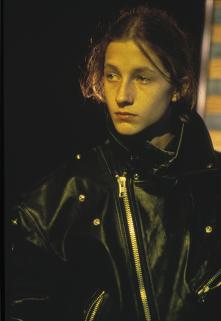 Image: © National Film Board of Canada
---
Film Description:
"Camille is a typical 12 year old in most respects. [...] Her family life, however, is anything but typical. Years earlier, her father abandoned Camille and her mother to live as a woman. When he returns as Marie-Pierre, complete with high heels, ruby red lips, an elegant coiffure and breasts, Camille glories briefly in the warmth of the longed-for reunion with her father. But inevitably, her idealised image of what a father should be and her nascent self-image as a woman collide with the reality of the tentative, love-starved caricature of a woman her father has become."
-- David McIntosh (source)

Film Description [in French] :
"Camille, 12 ans, passionnée par les étoiles, scrute le firmament en implorant le retour de Pierre-Henri son père, dont elle est sans nouvelles depuis cinq ans. Un soir, le père mythique revient... en se présentant sous le nom de Marie-Pierre. Michèle, la mère de Camille, pour qui ce fantôme du passé ravive une immense douleur, essaie en vain de s'interposer. L'adolescente, refusant la transsexualité de son père fera tout en son pouvoir pour le ramener à son identité d'homme, inconsciente de la détresse croissante et du déchirement que vit Marie-Pierre. À l'aide de son copain Lucky, Camille choisira sa voie."
-- Office national du film du Canada (source)
---
Film Credits (partial):
Written by:
Monique Proulx
Based on:
Le sexe des étoiles, a novel by Monique Proulx
Produced by:
Pierre Gendron, Doris Girard, Jean-Roch Marcotte, Yves Rivard
Principal Cast:
Marianne Mercier, Denis Mercier, Tobie Pelletier, Sylvie Drapeau, Luc Picard, Giles Renaud
Cinematography:
Eric Cayla
Film Editing:
Hélène Girard
Music:
Yves Laferrière
Production Company:
Office national du film du Canada / National Film Board of Canada, Cfp (Quebec), Les Productions du Regard, Bloom Films
(sources)
Awards won by Le sexe des étoiles
Notes about Le sexe des étoiles
Shown at the Festival of Festivals (Toronto) in 1993.
Nominated for a Genie Award in the Achievement in Direction category.
(sources)
Quote by the Director [in French]
"Il y a une énorme différence entre le roman et le scénario. Le roman est très brillant et habile. On le lit avec plaisir mais on reste en retrait. On ne s'engage pas émotivement alors que dans le scénario on s'identifie facilement."
-- Paule Baillargeon (source)
Quotes about Le sexe des étoiles
"[Le sexe des étoiles is] a sensitive, detailed look at how a young girl copes with the return of her estranged father, who is now a transsexual woman. However the film side-steps the issues in the end as the father, in order to reconcile with the daughter, begins to dress as a man again."
-- Lisa Daniel, Claire Jackson (source)

"The novel is structured almost entirely around Marie-Pierre, and around the shifts in thinking and ways of being that the frank celebration of her gender ambiguity occasions in others; by contrast, the film is focalized (quite literally, given how often her gaze is reflexively foregrounded) almost exclusively through the perspective of Camille, who refuses to accept her father as a woman."
-- Peter Dickinson (source)
Quotes about Le sexe des étoiles [in French]
"Marie-Pierre n'existe que par rapport à son passé de mâle : en tant que père de Camille et ex-mari de Michèle. Jamais n'observons-nous la femme, à quelques exceptions près (la scène du bar et celle de drague au café). Dès sa première apparition, elle interagit avec Michèle, dans une confrontation sûrement remplie de douleur et d'amertume, mais qui est curieusement filmée de l'extérieur, selon le point de vue de Camille. Le drame tué dans l'oeuf; la peur de l'émotion."
-- Alain Dubeau (source)

"La charismatique et troublante Marie-Pierre du roman, celle qui poussait les gens qu'elle côtoyait à changer leur regard, n'est pas le personnage central du film : elle y est excentrée ou, plus précisément, elle y partage le centre avec sa fille Camille."
-- Martine-Emmanuelle Lapointe & Lise Gauvin (source)

"Avec Paule [Baillargeon], je n'ai jamais eu peur d'être trahie. Dès le début, je l'ai sentie sur la même longueur d'ondes que moi; nous avions la même vision du monde. J'aimais des choses d'elle que j'avais vues. D'autre part, je sentais qu'elle aimait ce que je faisais, et qu'elle ne se mettrait pas à couper n'importe comment dans le scénario."
-- Monique Proulx (source)

"Mais quelque chose agace dans la soumission de Marie-Pierre face aux attaques et brimades de son ex-femme et de sa fille obsessive quoique bien intentionnée, et lorsque, sous l'insistance de cette dernière, le transsexuel retourne maladroitement à ses attirails masculins par un détour scénaristique obscur, le film semble s'arrêter, pauser dans le vide et perdre son air d'aller."
-- Tom Waugh (source)
Bibliography for Le sexe des étoiles
Book Chapters
Gauvin, Lise, and Martine-Emmanuelle Lapointe. "Lectures croisées d'un texte en plusieurs états : Le sexe des étoiles de Monique Proulx; roman, scénarios et film." In Cinéma et littérature au Québec : rencontres médiatiques, edited by Michel Larouche, 55-71. Montréal: XYZ éditeur, 2003. [in French]
Brief Sections of Books
Dickinson, Peter. Screening Gender, Framing Genre: Canadian Literature into Film. Toronto: University of Toronto Press, 2007. (pp. 126-128)
Namaste, Viviane K. Invisible Lives: The Erasure of Transsexual and Transgendered People. Chicago: University of Chicago Press, 2000. (pp. 103-109)
Journal Articles
Schwartberg, Shlomo. "Le sexe des étoiles." Review of Le sexe des étoiles. Performing Arts and Entertainment in Canada 28, no. 3 (Autumn 1993): 28.
Waugh, Tom. "Deux portraits : fragments d'une taxonomie 'queer' du cinéma québécois." Nouvelles Vues, no. 2 (Summer-Autumn 2004). [in French]
Articles from Newspapers, Magazines, or News Websites
Alioff, Maurie. "Le sexe des étoiles." Review of Le sexe des étoiles. Take One (Toronto), Winter 1994.
Bonneville, Léo. "À la recherche du sexe des étoiles." Interview with Paule Baillargeon. Séquences, March 1993. [in French]
Dubeau, Alain. "Le sexe des étoiles." Review of Le sexe des étoiles. Séquences, September-October 1993. [in French]
Lavoie, André. "Sexe, vérités et cinéma." Ciné-Bulles, Summer 1993. [in French]
Pevere, Geoff. "Le sexe des étoiles." Review of Le sexe des étoiles. Globe and Mail, September 24, 1993.
Roberge, Huguette. "Le sexe des étoiles ou l'insoutenable ambiguité de l'être : Paule Baillargeon vient d'achever le tournage de son premier 'vrai' long métrage en 13 ans." Interview with Paule Baillargeon. La Presse, December 19, 1992. [in French]
Roberge, Huguette. "Un vrai films d'auteures." Interview with Paule Baillargeon, Monique Proulx. La Presse, August 21, 1993. [in French]
Roy, André. "Entretien avec Paule Baillargeon." Interview with Paule Baillargeon. 24 Images, September-October 1993. [in French]
Roy, André. "Recherche père désespérément." Review of Le sexe des étoiles. 24 Images, September-October 1993. [in French]
Stratton, David. "Le sexe des étoiles (The sex of the stars)." Review of Le sexe des étoiles. Variety, September 13, 1993.
Tremblay, Odile. "Paule Baillargeon au FFM : Le sexe des étoiles ouvre la compétition." Interview with Paule Baillargeon. Le Devoir, August 21, 1993. [in French]
Dissertation Chapters
Bremer, Rose Mary. "Screening Gender and Sexuality in Baillargeon's Le sexe des étoiles." In "Screening Gender and Sexuality in Contemporary Quebec Film Adaptation," 117-158. PhD diss., Ohio State University, 2004.
Trépanier-Jobin, Gabrielle. "La figure du travesti/transsexuel." In "Représentations alternatives de la subjectivité féminine dans le cinéma féminin québécois," 67-82. M.A. diss., Université du Québec à Montréal, 2009. [in French]
Web Sites about Le sexe des étoiles
---