Jill Johnston October 1975
Canada, 1977 (documentary, 30 minutes, colour, English)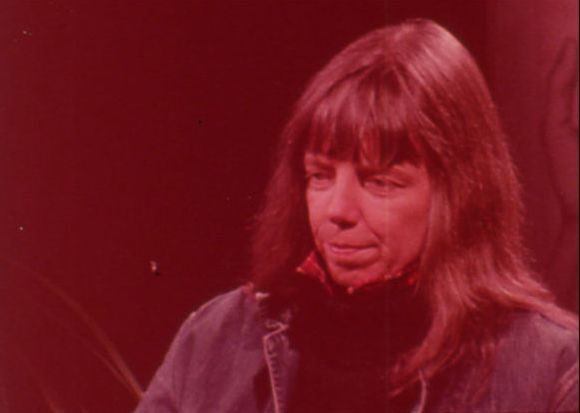 Image: © Canadian Filmmakers Distribution Centre
---
Film Description:
"Jill Johnston is the author of 'Marmalade Me,' 'Gullible's Travels,' 'Lesbian Nation,' and 'Motherbound.' This cinema verité documentary is a portrait of Johnston at work and a feminist author at a transitional point in the women's movement and in her own career."
-- Canadian Filmmakers Distribution Centre (source)
---
Film Credits (partial):
Produced by:
Kay Armatage, Lydia Wazana
Cinematography:
Joan Churchill, Carol Betts
Film Editing:
Helen Prince Buchsman, Allan Collins, Ruth Hope
Music:
Rough Trade, Cindy Moseley
Production Company:
K & L Productions, Premier Operating
(sources)
Notes about Jill Johnston October 1975
Shown at the Festival of Festivals (Toronto) in 1977.
(sources)
Quotes by the Director
"Jill Johnston October 1975 was not only a portrait of a political figure from the women's movement addressing feminist issues. We had made every attempt in the filmmaking process to eliminate the charges of objectification which are rightly laid on so many documentary filmmakers. The all-women crew had been with Jill constantly, becoming her friends and home base while she was in Toronto, and she had publicly stated that she was enjoying the filming. As for the crew, although areas of technical expertise had been specific, collaboration and collectivity had been the norm. (I admit that some of that collaboration had been necessitated by the lack of filmmaking experience of the co-directors, but for me at least it was also equally a principle developed through years of working collectively in women's groups.) In the editing also we felt that we had been sympathetic, truthful and fair to our subject."
-- Kay Armatage (source)

"She [Jill Johnston] was an amazingly outrageous character. Everybody kept saying, 'You're the one who knows about her, you should make the film.' So I did. After making that film, I tried to sit down and learn how to make films."
-- Kay Armatage (source)
Quotes about Jill Johnston October 1975
"[Jill Johnston October 1975] follows Jill Johnston, author of Lesbian Nation, during one week of public readings and interviews in Toronto. The film captures her in transit, showing a woman at work, and though interesting and sympathetic, is not always flattering. Jill Johnston has since refused to allow the film to be shown in the U.S."
-- Jane Dick (source)

"The Innis College 'Town Hall' was packed. Women from all the various allegiances and cross-allegiances of Toronto's women's movement had turned out in force. After the applause for the film [Jill Johnston October 1975] had died down, the guest of honor [Jill Johnston] came down to the front of the hall to speak. There was a conflict of interests between herself and the filmmakers, she announced. She couldn't relate to the film, thought that the image it created would harm her aspirations as a serious writer, and wouldn't sign a release for its sale or showing outside Canada. [...] What kept coming through loud and clear was that she didn't object to the film so much because it misrepresented her, but because it didn't portray her as she wanted to be seen. One of the scenes she thought should have been cut, for instance, because she didn't 'feel that way anymore', showed her exploding in rage at a man in a public meeting, and threatening to kick him 'in the balls' if he didn't leave immediately. She approved, on the other hand, of an interview sequence with Reiner Schwartz because she liked the 'laid-back' self that came across, the 'cool, low-key' manner in which she deflected his attempts to label her."
-- Katherine Gilday (source)

"In June a movie starring Jill Johnston, filmed by Kay Armatage and Lydia Wazana, was shown at Innis College (Jill Johnston: October 1975). Jill was present in person to answer questions after the movie. The first thing she did to shock her fans was to say that she was not going to sign the papers for the release of the movie outside of Canada, because she does not want to have the image of her past life as shown in the movie (that of a radical militant dyke-feminist) associated with her anymore. She proceeded also to say that she thought all political anger was invalid. Her fans, like myself, duly stunned, asked her a few mild questions registering our shock. Was this the fearless frumious feminist who had in years past kicked men out of places she spoke at on reading tours? Was this the movement heroine of Lesbianation?"
-- Gwen Hauser (source)

"Jill Johnston: October 1975 was conceived and executed in a feminist manner through collaboration, flexibility of roles, equality of participation, and active engagement of spectators' emotions. It employs a variety of cinematic techniques, including the use of hand-held cameras, jump-cuts, voice-overs, and the filming of real people in uncontrolled situations."
-- Sara Warner (source)

"Lesbian Nation had such a profound impact on Canadian feminists that [Jill] Johnston was invited to guest lecture at Innis College, where a collective of graduate students, [Kay] Armatage among them, were leading the University of Toronto's first women's studies courses. When the mercurial Johnston returned to campus two years later for the premiere [of Jill Johnston: October 1975], at the fourth annual Women's International Film Festival, she was anything but flattered by the image on the screen. The filmmakers were visibly shaken when, after the credits rolled and the auditorium erupted in applause, Johnston rose out of the audience to denounce the project, personally disparage Armatage, and threaten to sue anyone who attempted to distribute the documentary outside of Canada."
-- Sara Warner (source)
Bibliography for Jill Johnston October 1975
Book Chapters
Warner, Sara. "A Gay Old Time: Jill Johnston, 1975." In Theatres of Affect, edited by Erin Hurley, 104-122. Toronto: Playwrights Canada Press, 2014.
Journal Articles
Armatage, Kay. "Feminist Film-making: Theory and Practice." Canadian Woman Studies / Les Cahiers de la femme 1, no. 3 (1979): 49-50.
Articles from Newspapers, Magazines, or News Websites
Gilday, Katherine. "Jill Johnston, October '75." Review of Jill Johnston October 1975. Cinema Canada, September 1977.
Hauser, Gwen. "Fall of a movement heroine: Jill Johnston comes to town." Body Politic, no. 37, October 1977.
---