Great Grand Mother
Canada, 1975 (documentary, 29 minutes, colour, English)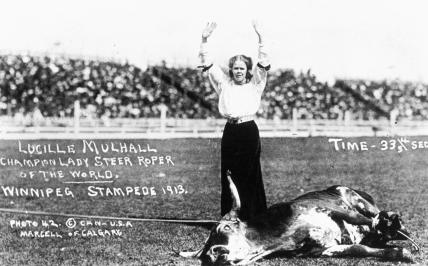 Image: © National Film Board of Canada
---
Film Description:
"An appreciation of the women who settled the Prairies, beginning with the early immigration and ending with the victory of being the first women in Canada to receive the provincial vote. Recollections of women are complemented by a series of quotations drawn from letters, diaries, and newspapers of the day, which are spoken over re-enacted scenes and archival photographs."
-- National Film Board of Canada (source)

Film Description [in French] :
"Les femmes qui ont aidé à coloniser les Prairies, du début de l'immigration jusqu'à l'obtention du droit de vote."
-- Jana Vosikovska (source)
---
Film Credits (partial):
Produced by:
Kathleen Shannon, John Taylor
Cinematography:
Lorna Rasmussen, Anne Wheeler
Film Editing:
Bob Reece
Music:
Ann Mortifee, Doug Edwards
Production Company:
National Film Board of Canada / Office national du film du Canada, Filmwest Associates Ltd.
(sources)
Notes about Great Grand Mother
Inspired by the story of Anne Wheeler's grandmother's journey to the Canadian West.
(sources)
Quotes by the Director
"As word got out that we were interested in the personal untold stories of women who were homesteaders, we were overwhelmed by the response. By the time we finished the film, we had a room full of boxes stuffed with family photographs, personal letters, diaries and unpublished works. We zigzagged across Canada doing interviews from Montréal to Victoria, and in 1975 the documentary film, Great Grand Mother, was finished by the National Film Board of Canada. [...] A year later, a book A Harvest Yet to Reap, was published, that featured a portion of the collection we had gathered. All these materials were eventually donated to the University of Saskatchewan."
-- Anne Wheeler (source)

"Great Grand Mother [...] led me into the personal lives of women who had never been asked about their stories. They had come to this wilderness to settle the land, many of them naively and, in doing so, they discovered their own capabilities. Many gave up. Others died trying to survive."
-- Anne Wheeler (source)

"Most of what has been documented so far has been male-oriented. As a result, little is known about the day-to-day lives of pioneer women, who often faced incredible hardships and deprivation."
-- Anne Wheeler (source)
Quotes about Great Grand Mother
"Great Grand Mother [...] attempts to recover the histories of Prairie women through diaries, letters, and manuscripts. The film integrates archived photographs, interviews with five contemporary Prairie women reminiscing about their lives in oral-history mode, historical re-enactments, and shots of prairie landscapes."
-- Elizabeth Anderson (source)

"The directors deploy 'talking heads' in a feminist strategy to represent the women, now seniors, as voices of authority. Women face the camera directly as they recount their memories, enumerating valuable details, pronouncing and judging through personal experience. The background, a woman's kitchen or parlor, reinscribes the offical space (most often the television studio or the professional office) usually reserved for traditional talking heads and asserts the authority of the domestic sphere."
-- Gail Vanstone (source)
Bibliography for Great Grand Mother
Book Chapters
Wheeler, Anne. "The Woman Who Didn't Exist." In Taken by the Muse: On the Path to Becoming a Filmmaker, 95-139. Edmonton: NeWest Press, 2020.
Brief Sections of Books
Vanstone, Gail. D Is for Daring: The Women behind the Films of Studio D. Toronto: Sumach Press, 2007. (pp. 152-154)
Articles from Newspapers, Magazines, or News Websites
Canadian Press. "Film pays homage to women settlers in Canada's West." Interview with Anne Wheeler. Montreal Star, July 29, 1975.
Web Sites about Great Grand Mother
---