A Bear, a Boy, and a Dog
United States, 1921 (fiction, 23 minutes, black and white)
Also known as "Saturday Off"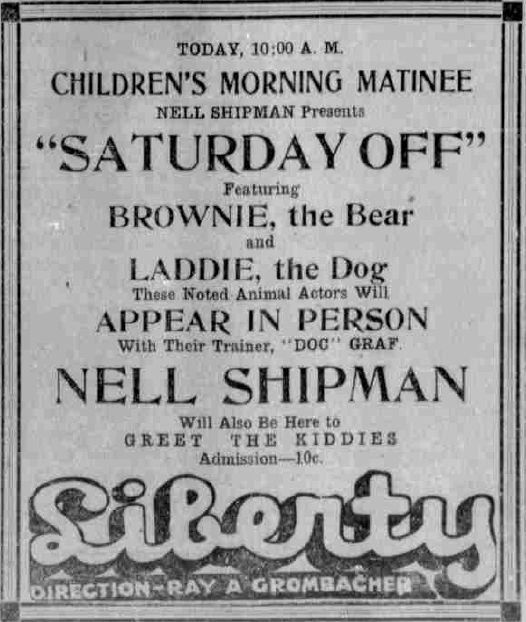 Image: The Spokesman-Review (Spokane, Washington), April 29, 1922
---
Film Description:
"A light-hearted adventure featuring the eponymous characters in a series of delightful episodes."
-- Toronto International Film Festival Group (source)
---
Film Credits (partial):
Written by:
Nell Shipman, William H. Clune
Produced by:
Nell Shipman
Principal Cast:
Sonny Howard, Margaret Mann, Nell Shipman, Brownie the bear, Laddie the dog
Cinematography:
Joseph B. Walker
Film Editing:
Nell Shipman
Production Company:
Nell Shipman Productions
(sources)
Notes about A Bear, a Boy, and a Dog
Silent film.
Filmed in Sycamore Grove, California.
(sources)
Quotes about A Bear, a Boy, and a Dog
"Not particularly remarkable, this charming little film [A Bear, a Boy, and a Dog] is one of many that Shipman turned out, and it happened by luck to be preserved in excellent print condition. It belongs to a tradition of dog films that is as long as the cinema itself [...]. Shipman's films are notable, however, for her light touch with the intertitles that reveal the animals' thoughts and representations of speech."
-- Kay Armatage (source)

"While [Nell] Shipman was trying to find investors for the new feature The Girl from God's Country, she was also trying to hang onto Joseph Walker as cinematographer. When he was getting low on funds, 'she dashed out a one-reeler story about a boy, dog and a bear to keep [him] busy. [He] was to direct, photograph and have complete charge of making it. In turn, [he'd] receive half the profit.' Walker's version of the arrangement for creative control may be as they discussed it, but Tom Trusky credits Shipman and Bert Van Tuyle as directors, with Walker listed only as photographer. [...] A Bear, a Boy, and a Dog (1921, 20 minutes) is one of many one- and two-reelers that Shipman wrote and directed independently. Referring to them as 'bits and pieces, 'fillers' made while we waited for my percentage of the take on the big picture [Back to God's Country],' Shipman disparages their distribution sources as 'Poverty Row Independents' and their exhibition venues as 'small-time State's Righters' (i.e., the southern circuit). Originally entitled Saturday Off and shot in 1920, the little film was retitled A Bear, a Boy, and a Dog and copyrighted in 1921."
-- Kay Armatage (source)

"Fans of Back to God's Country [...] might discover [in A Bear, a Boy, and a Dog] at least one reference to it, in the form of an ironic reversal of Dolores' dream. While Dolores, in her city apartment with her husband, dreamed of her Arcadian forest home with the animals, Henry, with Brownie and Laddie free but hungry in the woods, longs for home and for his mother offering them supper. And while Dolores' dream was bound to come true, Henry's wish does so only in part: he eventually returns, but without his new friends. In terms of the plot, then, the film only half fulfills its subversive promise of rebellion against 'the shackles of grown-up inhumanity'. While the threesome from the title does catch the criminals, and are otherwise up to some harmless mischief, each of them eventually returns or is returned to the 'inhuman' captivity from which he or she sought to escape."
-- Annette Förster (source)
Bibliography for A Bear, a Boy, and a Dog
Brief Sections of Books
Armatage, Kay. The Girl from God's Country: Nell Shipman and the Silent Cinema. Toronto: University of Toronto Press, 2003. (pp. 265-267)
Förster, Annette. "Nell Shipman and the American Silent Cinema." In Women in the Silent Cinema: Histories of Fame and Fate. Amsterdam: Amsterdam University Press, 2017. (pp. 374-376)
---