Flamenco at 5:15
Canada, 1983 (documentary, 29 minutes, colour, English)
Also known as "Flamenco Ó 5 h 15"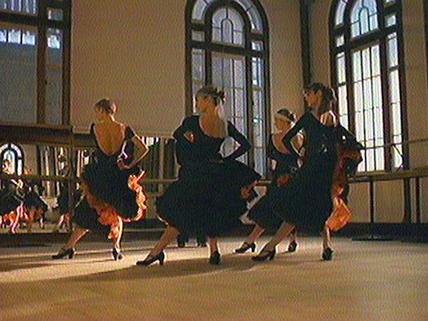 Photo © National Film Board of Canada
---
Film Description:
"This Oscar-winning film is a visual and emotional thriller. It is an impressionistic record of a flamenco dance class given to senior students of the National Ballet School of Canada by two great teachers from Spain, Susana and Antonio Robledo. The film shows the beautiful young North American dancers--inspired by the flamenco rhythms and mesmerized by Susana's extraordinary energy--joyously merging with an ancient gypsy culture."
-- National Film Board of Canada (source)
---
Film Credits (partial):
Produced by:
Cynthia Scott, Adam Symansky, Kathleen Shannon
Cinematography:
Paul Cowan
Film Editing:
Paul Demers, Cynthia Scott
Music:
Antonio Robledo
Production Company:
National Film Board of Canada / Office national du film du Canada
(sources)
Award won by Flamenco at 5:15
Quotes about Flamenco at 5:15
"Flamenco at 5:15 is a small jewel of a documentary."
-- Jennifer Dunning (source)

"[In Flamenco at 5:15], director Cynthia Scott keeps her narrative intrusions to a bare introductory minimum. Instead, taking full advantage of the quasi-cathedral setting, she creates a hymn to match -- a celebratory offering to movement at its most refined, a lyrical homage to the ones who learn and The One who teaches."
-- Rick Groen (source)

"Flamenco At 5:15 focuses on a specialized but sharing atmosphere. The visuals are beautiful. The restored Quaker church that houses the National Ballet School, and the picturesque arched windows that frame the large studio set this jewel of a film with an aesthetic simplicity."
-- Veronica Tennant (source)
Bibliography for Flamenco at 5:15
Newspaper or Magazine Articles
Cinema Canada. "NFB fetes Hollywood heroes Scott and Symansky." Interview with Cynthia Scott, Adam Symansky. Cinema Canada, May 1984.
Dunning, Jennifer. "'Flamenco at 5:15' on Channel 13." New York Times, July 14, 1986.
Groen, Rick. "Students of ballet unwind in a celebration of movement." Review of Flamenco at 5:15. Globe and Mail, June 27, 1984.
Tennant, Veronica. "Flamenco mixes passion and dance." Toronto Star, October 1, 1989.
Web Sites about Flamenco at 5:15
---