Into the Forest
Canada, 2015 (fiction, 101 minutes, English)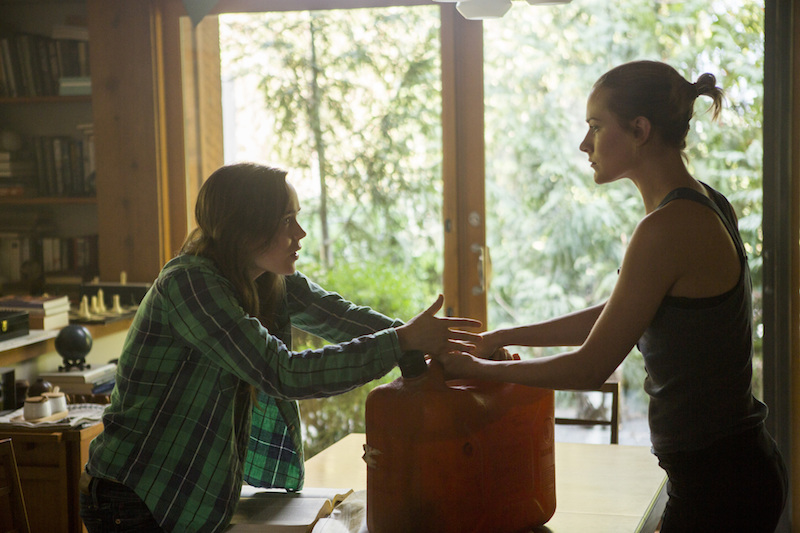 Image: © Elevation Pictures
---
Film Description:
"Based on Jean Hegland's novel of the same name, Into the Forest takes place in the near future, as a massive power outage overwhelms all of continental North America and sets off a fight for human survival. Living with their father, Robert (Callum Keith Rennie [...]), in a beautiful house more than forty kilometres from the nearest town, sisters Nell (Ellen Page) and Eva (Evan Rachel Wood) gradually become aware of the severity of their situation, as their supplies dwindle and the blackout continues with no end in sight. Battling extreme loneliness and faced with the imminent threats of starvation, illness, and intruders, the young women must double down on discipline and creativity in order to ensure that they see the next day. Page and Wood offer powerful and nuanced performances as Nell and Eva, who are forced to re-examine their place in the world and their relations to the land, their home, and each other. With Daniel Grant's cinematography rendering the landscape at once sublime and threatening, Into the Forest offers a fresh and potent take on the apocalyptic thriller, exposing the vulnerabilities of our modern world and bringing a humanistic approach to its fearsome vision of an all-too-plausible future."
-- Magali Simard (source)
---
Film Credits (partial):
Written by:
Patricia Rozema
Based on:
Into the Forest, a novel by Jean Hegland
Produced by:
Niv Fichman, Aaron L. Gilbert, Ellen Page, Sriram Das, Haroon Saleem, Steve Shapiro, Jason Cloth, Allan Stitt, Kelly Morel, Kelly Bush Novak, Adrian Love
Principal Cast:
Ellen Page, Evan Rachel Wood, Max Minghella, Callum Keith Rennie, Michael Eklund, Wendy Crewson
Cinematography:
Daniel Grant
Film Editing:
Matthew Hannam
Music:
Max Richter
Production Company:
Bron Studios, Rhombus Media, CW Media Finance
(sources)
Award won by Into the Forest
Notes about Into the Forest
Filmed in Campbell River, British Columbia.
Shown at the Toronto International Film Festival in 2015.
Selected as one of the ten best Canadian feature films of 2015 for the Canada's Top Ten Film Festival in 2016.
(sources)
Quotes about Into the Forest
"While [Ellen] Page and [Evan Rachel] Wood hardly look like sisters, their commanding, utterly believable performances [in Into the Forest] remove any doubt. Nell and Eva's relationship forms the heart of the film and, along with the fleeting moments of ecstasy they find in things previously taken for granted—eating a piece of chocolate, watching home movies—their bond provides something of genuine beauty in a progressively bleak world."
-- Laura Kern (source)

"[In Into the Forest, Patricia] Rozema brings the Gothic fantastic sensibility of her early New Queer Cinema successes, I've Heard the Mermaids Singing (1987) and When Night Is Falling (1995), into dystopia, creating a telling parable, a science fiction in which technology and modern scientific knowledge both fail, and older ways of knowing and being come to the fore."
-- Sophie Mayer (source)
Bibliography for Into the Forest
Journal Articles
Mayer, Sophie. "Girl Power: Back to the Future of Feminist Science Fiction with Into the Forest and Arrival." Film Quarterly 70, no. 3 (Spring 2017): 32-42.
Articles from Newspapers, Magazines, or News Websites
Kern, Laura. "Into the Forest." Review of Into the Forest. Film Comment, vol. 52, no. 4, July-August 2016.
Tobias, Scott. "Toronto Film Review: 'Into the Forest'; Ellen Page and Evan Rachel Wood play sisters fighting for survival in this heartfelt but under-realized adaptation of Jean Hegland's novel.." Review of Into the Forest. Variety, September 13, 2015.
Web Sites about Into the Forest
---