Les filles du Roy
Canada, 1974 (documentary, 56 minutes, colour, French)
Also known as "They Called Us 'Les Filles du Roy'"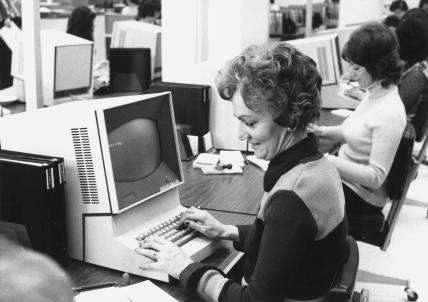 Photo © National Film Board of Canada
---
Film Description:
"Under cover of a love letter, this is an impressionistic history of the women of Québec down through the ages: the Indian, the fille du Roy, the nun, the settler's wife, the soldier's wife, and, finally, today's woman, who examines her traditional role as mother and wife, and contrasts it with her new place in the labor force. The couple, and the difficulties involved in being a couple, are touched upon with great tenderness."
-- National Film Board of Canada (source)
---
Film Credits (partial):
Written by:
Marthe Blackburn, Jeanne Morazain, Anne Claire Poirier
Produced by:
Anne Claire Poirier, Jean-Marc Garand
Principal Cast:
Danielle Ouimet
Narrator:
Dyne Mousso
Participants:
Anne Claire Poirier, Marie-Josée da Silva, Katherine Deer, Monique Fortier, Suzanne Gervais, Hélène Girard, Berthe Latraverse-Poirier, Nicole Lebreton
Cinematography:
Georges Dufaux
Animation:
Jean-Thomas Bédard
Film Editing:
Claire Boyer
Music:
Maurice Blackburn
Production Company:
Office national du film du Canada / National Film Board of Canada
(sources)
Notes about Les filles du Roy
Part of the 'En tant que femmes' series.
Film produced as part of the National Film Board of Canada's 'Challenge for Change/Société nouvelle' program.
(sources)
Quotes by the Director [in French]
"C'est Marthe Blackburn qui avait eu la première idée de ce film, mais sous la forme d'une comédie. C'était justement l'histoire de la femme au Québec depuis les filles du Roy jusqu'à aujourd'hui — quelle avait été sa place dans la société, quel rôle elle avait joué — mais vraiment en comédie. [...] Moi j'ait dit à Marthe que je trouvais que c'était un sujet trop grave pour un rire. [...] Mais ça me paraissait un sujet tellement important."
-- Anne Claire Poirier (source)

"Jean-Paul Lemieux a vu Les filles du Roy et il s'est reconnu dans le film. Les gens qui connaissent les toiles de Lemieux soulignent cet aspect du film. Je me suis inspirée très profondément de ce peintre. Avant de tourner, je disais à Georges Dufaux : 'Je veux des Lemieux'."
-- Anne Claire Poirier (source)
Quote about Les filles du Roy
"[Anne Claire] Poirier re-inscribes the female labour that helped to build and continues to maintain the Québec nation through the conceit of letters addressed to absent men across a range of time beginning with invasion and settlement and continuing up to the early 1970s present of the film's production."
-- Christopher Gittings (source)
Quotes about Les filles du Roy [in French]
"Des images documentaires, dont plusieurs atteignent une qualité exceptionnelle, servent d'illustration, de commentaire ou de contrepoint à un texte d'une rare qualité d'intelligence et d'émotion."
-- Yves Lever (source)

"Avec ce film extraordinaire, le cinéma québécois vient d'accomplir un grand bond en avant. À la recherche depuis deux ans de l'identité de la Québécoise, l'équipe d'En tant que femmes vient de signer son premier chef-d'oeuvre."
-- Daniel Pinard (source)

"Ce très beau film d'Anne-Claire Poirier (Les filles du Roy) montre d'une façon pathétique tout ce potentiel féminin gaspillé et mal utilisé. Cette collaboration indispensable qu'a apportée la femme depuis les débuts de la Nouvelle-France, et qui reste encore méconnue et rabaissée."
-- Huguette Poitras (source)
Bibliography for Les filles du Roy
Book Chapters
White, Jerry. "Les Filles du Roy." In Challenge for Change: Activist Documentary at the National Film Board of Canada, edited by Michael Brendan Baker, Thomas Waugh, and Ezra Winton, 269-276. Montreal: McGill-Queen's University Press, 2010.
Brief Sections of Books
Gittings, Christopher E. Canadian National Cinema: Ideology, Difference and Representation. London: Routledge, 2002. (pp. 267-271)
Lever, Yves. Les 100 films québécois qu'il faut voir. Québéc: Nuit blanche, 1995. [in French] (pp. 116-117)
Pallister, Janis L. "Women's Cinema." In The Cinema of Quebec: Masters in Their Own House. London: Associated University Presses, 1995. (pp. 101-104)
Journal Articles
Langston, Jessica B. "Women in a Word: Anne Claire Poirier's Subversive Subjectivity." Canadian Journal of Film Studies / Revue canadienne d'études cinématographiques 13, no. 2 (Autumn 2004): 57-73.
Newspaper or Magazine Articles
Pinard, Daniel. "'En tant que femmes' signe son premier chef-d'oeuvre." Review of Les filles du Roy. Le Devoir, March 13, 1974. [in French]
Web Sites about Les filles du Roy
---