Incident at Restigouche
Canada, 1984 (documentary, 46 minutes, colour, English)
Also known as "Les événements de Restigouche"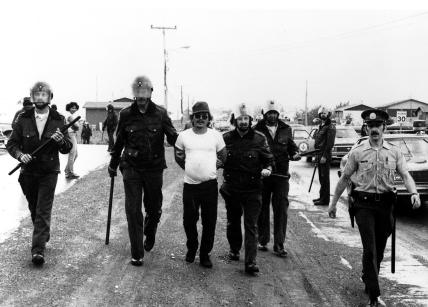 Image: © National Film Board of Canada
---
Film Description:
"On June 11 and 20, 1981, the Québec Provincial Police (QPP) raided Restigouche Reserve, Québec. At issue were the salmon-fishing rights of the Micmac people. Because salmon has traditionally been a source of food and income for the Micmacs, the Québec government's decision to restrict fishing aroused consternation and anger among the Indians. This film provides a historical perspective on the issue, and documents, with newsclips, photographs and interviews, the two police raids. An interview with former Québec Minister of Fisheries Lucien Lessard explaining the motives of his decision complements the Micmacs' account of the event. This investigation into the history-making raids is a powerful film that puts justice on trial."
-- National Film Board of Canada (source)
---
Film Credits (partial):
Written by:
Alanis Obomsawin
Produced by:
Andy Thomson, Alanis Obomsawin, Robert Verrall, Adam Symansky
Narrator:
Alanis Obomsawin
Animation:
Raymond Dumas
Film Editing:
Alan Collins, Wolf Koenig
Production Company:
National Film Board of Canada / Office national du film du Canada
(sources)
Quotes about Incident at Restigouche
"Incident at Restigouche is an exercise in what bell hooks calls oppositional looking, a site of resistance to the white colonizing gaze of the Québec state that sutures the viewer into an identification with the Micmac subject position through interviews and subjective camera shots."
-- Christopher E. Gittings (source)

"Bastion Point Day 507 [New Zealand] [and] Incident at Restigouche [Canada] [...] were often paired on the festival circuit and are among the most important films in contemporary Indigenous cinema. Directors Merata Mita and Alanis Obomsawin seemingly willed Indigenous cinema into life with these two endlessly fascinating historical documents."
-- Jesse Wente (source)
Bibliography for Incident at Restigouche
Brief Sections of Books
Gittings, Christopher E. Canadian National Cinema: Ideology, Difference and Representation. London: Routledge, 2002. (pp. 217-218)
Lewis, Randolph. Alanis Obomsawin: The Vision of a Native Filmmaker. American Indian Lives. Lincoln: University of Nebraska Press, 2006. (pp. 48-53)
Articles from Newspapers, Magazines, or News Websites
Scott, Jay. "NFB documentary redresses imbalance: Restigouche remembered." Review of Incident at Restigouche. Globe and Mail, September 11, 1984.
Web Sites about Incident at Restigouche
---