La vie rêvée
Canada, 1972 (fiction, 85 minutes, colour, French)
Also known as "Dream Life", "The Dreamed Life"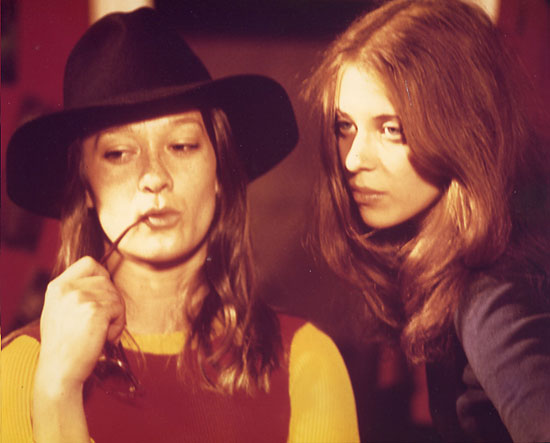 Image: © Productions Ciné-Plurielles
---
Film Description [in French] :
"Deux jeunes filles travaillent dans une cie de films et se lient d'une amitié assez exceptionnelle. L'une d'elles est très amoureuse d'un homme socialement innaccessible, l'autre a une attitude agressive envers la gente masculine en général. Sur une égale dissatisfaction, leur amitié se renforce, la complicité s'établit. Elles s'entendent sur un point : plus l'Homme est lointain et innaccessible, plus elles sont fascinées et attirées vers lui. Elles se forgent un bel homme 'rêvé' et le gardent caché; il devient un personnage vivant, faisant partie de leur vie quotidienne jusqu'à ce que la vérité éclate : l'homme n'existait pas vraiment — seule son image existait. Une fois l'homme (sans visage) démasqué, elles peuvent reprendre le cours de leur vie réelle."
-- Les Productions Ciné-Plurielles (source)

Film Description:
"Two young girls, one working class, the other middle class, meet at work and become friends. Finding it hard to live in the present, and that their fantasies bear no relation to the way they experience men's attitudes to them, they lure one of their dream lovers to act out 'his' reality; he fails, and the grip is broken; they have proved that the real men they know are peripheral to their lives, and thus are no longer dependent on their own fantasies."
-- Micheline Victor (source)
---
Film Credits (partial):
Written by:
Patrick Auzépy, Mireille Dansereau
Produced by:
Guy Bergeron
Principal Cast:
Liliane Lemaître-Auger, Véronique Le Flaguais, Jean-François Guité, Guy Foucault, Marc Messier, Paul Brennan, Judith Paré, Louise Portal, Stéphanie Dansereau, Pierre Fauteux, Alexandra Godineau, Pierre Dansereau, Philippe Estérez, Philippe Pagé, Suzanne Comtois, Normand Bélanger, Paul Carignan, Marie Lambert, Paul Otis, Line Lafrenière, Yves Bélanger, Normand Dion, Angela Moranda, R.A.R Sauriol, Romolo Massa
Cinematography:
Louis de Ernsted, François Gill, Richard Rodrigue
Film Editing:
Danielle Gagné
Music:
Emmanuel Charpentier
Production Company:
Association coopérative de productions audio-visuelles
(sources)
Awards won by La vie rêvée
Notes about La vie rêvée
Filmed in Montreal.
Shown at the Festival of Festivals (Toronto) in 1984.
Shown at the Women and Film International Festival (Toronto) in 1973.
(sources)
Quote by the Director
"The men [at L'Association coopérative des productions audio-visuelles] thought that if I made a film on women, it should be militant. A sociological-Marxist analysis, or something like that. A very political film. But you see, that is a man's idea of what is revolutionary about women."
-- Mireille Dansereau (source)
Quotes by the Director [in French]
"Ils [les hommes de l'Association coopérative des productions audio-visuelles] disaient: 'Pourquoi ne te choisis-tu pas un autre sujet, plus engagé, plus politique?' alors que je considère que le simple fait de faire un film est un acte politique. Un gars voulait me faire changer la fin. D'autres critiquaient : 'Ce n'est pas de vrais rêves de femme (comme s'ils savaient!). Et puis, ce n'est pas assez structuré, pas assez logique.' Or, je pense encore aujourd'hui que ce film a la logique de la vie intérieure, de l'imaginaire."
-- Mireille Dansereau (source)

"[Dans La vie rêvée] j'ai essayé avant tout de montrer à quel point les femmes sont influencées par les images, comment la psyché féminine est incrustée de cette imagerie : les images qui sont évidentes, celles qu'on voit dans toutes les revues et les magazines, l'image de la femme qui se voit elle-même ou qui est vue par l'homme, l'image qu'elle veut donner aux autres — et il y a aussi, plus profondément, l'imagerie qui retourne aux fantasmes : le désir de retour à l'enfance, le désir du père, le problème de l'imposition de la domination du monde patriarcal, le père, le patron et l'homme rêvé."
-- Mireille Dansereau (source)

"Je ne me sens pas une féministe. Je pense que je dois l'être parce que La Vie rêvée a été pris comme ça par les féministes américaines. C'est l'histoire de deux jeunes filles de dix-huit, vingt ans; The Dream Life en anglais. Il a été fait en '71. Moi, je ne savais même pas ce que c'était que le mouvement féministe en '71. Dans mes films, on a un regard féminin, je ne dirais pas féministe."
-- Mireille Dansereau (source)

"J'étais la seule femme de l'ACPAV [Association coopérative de productions audiovisuelles] à ce moment-là. Et comme je voulais faire un film où je voulais mettre à l'écran des femmes et des rêves de femmes, j'ai reçu des réactions comme : 'C'est drôle, ma blonde ne rêve pas comme ça!' ou 'Il n'y a pas un homme qui a un rôle important!'. Mais j'ai tout de même réussi à faire La vie rêvée. Sans doute grâce à un cinéaste comme Jean Chabot qui a vu qu'un autre point de vue pouvait être intéressant."
-- Mireille Dansereau (source)

"Partout à l'extérieur du Québec, la réaction a été favorable. Ici, le film [La vie rêvée] a été mal reçu. On a dit que c'était un film de femme parce qu'il n'y avait pas de personnage d'homme et pourtant pendant des années on a fait du cinéma avec des personnages masculins. Des Héros. L'histoire de deux filles, ça n'intéressait pas la critique masculine qui ne se sentait pas concernée."
-- Mireille Dansereau (source)

"Si mon film [La vie rêvée] entend dépeindre la condition aliénante d'une petite bourgeoise, il ne se veut aucunement un film engagé, un film sur la libération de la femme."
-- Mireille Dansereau (source)
Quotes about La vie rêvée
"The appropriateness of a film studio setting as a point of departure for a movie about women's self-realisation underlines Mireille Dansereau's own status as a réalisateur confronting the sexism of image-mongering. Through playful camerawork (impromptu hand-held scenes, zip-pans between talking heads, use of photomontage), and disarming reversals of narrative expectations, she defuses the sexploitation fantasies that appear to constitute the output of the fictional studio."
-- Martyn Auty (source)

"La vie rêvée, the first feminist feature film directed by a woman in Quebec, is a film that offers sexuality as a utopia for women at the same time as it argues strongly against its own utopic view of sex."
-- Jean Bruce (source)

"[La vie rêvée] suggests that the separatist agenda was often at odds with the complete emancipation of the Québécoise; the male characters who represent separatism couch their sexism in separatist rhetoric, but are, with the possible exception of the Anglo boss at B&C Films, the most sexist of all the male characters in the film."
-- Jean Bruce (source)

"Perhaps the whole problem facing women directors can be summed up by a story [Kay Armatage] told about [Mireille] Dansereau [during the Women Directors and Their Films festival at York University, March 5-9, 1973]: 'The only shot in La vie rêvée that Mireille didn't like was the one set up by her male cameraman. It was a scene in which one of the girls races out of a building and through a field, a long scene of her cutting through the tall grass. Mireille set the camera angle and then left for a while. When she saw the rushes, she realized the cameraman had re-set the angle, and the whole focus of the scene—which couldn't be cut because of continuity—was the girl's white panties under the flapping back section of her dress, exposed by the new, lower angle of the camera.'"
-- Warren Clements (source)

"The first privately-financed feature film made by a Québec woman, La vie rêvée (1972) is a project of deconstruction in its effort to expose the hollowness of the image of ideal romance purveyed by Hollywood and the advertising media. The film overtly challenges dominant cinematic practice in several ways—by telling the story from the point of view of the two non-glamorous heroines, by foregrounding the process of creating illusion by the media itself, by subverting the expectations of the classic love-story plot (here girl gets guy into bed and the attraction immediately fizzles)."
-- Mary Jean Green (source)

"What is important in [La vie rêvée...] is the element of rêve or fantasy and its relationship with the women's situation. Through editing, mise en scène, and mobile camerawork, the film at every moment locates the women both in the concrete spaces of the city, parental home, work, and landscape and in a world of images and sounds that are external and interiorized, that come from elsewhere but inhabit the self in such a way that the development of identity is dependent upon their exploration, acceptance, or rejection."
-- Bill Marshall (source)

"Mireille Dansereau's first feature was also the first Quebec fiction feature directed by a woman and was a considerable critical and popular success. Though not overtly argumentative regarding feminism (it is full of jokes and parodies and cleverly mixes styles, from direct cinema through lush fantasy tableaux), it is a thoughtful exploration of liberation, of sexuality, of friendship and, not least, of the overwhelming power of imagery."
-- Peter Morris (source)

"Beyond the playful tone and the dilettantism of the two female characters, La vie rêvée offers a powerful diatribe against a Québécois society that is full of its masculinity and where the other is constantly relegated to a deceptive space, a no-man's land."
-- Chantal Nadeau (source)

"I was a curator-in-the-making who would never have presumed to stage a women's film festival if not for a fortuitous phone call from the Chicago Tribune's film critic, Gene Siskel, just back from two weeks of Army Reserve duty in Washington, D.C. While there, he'd checked out a women's film festival and was staggered by what he saw: a scene in Mireille Dansereau's Dream Life that showed a teenage pickup scene from the girl's point of view instead of the boy's. Bowled over by the difference a woman behind the camera could make, he'd filed a column for the Tribune announcing that 'it gave me an appetite for more films conceived and shot from the female point of view. Not because they necessarily would be better, but because they would be different.'"
-- B. Ruby Rich (source)

"Consistently intelligent, the film is by turns lyrical, polemical, playful, sensual, amusing, and ferocious. While its Godardian influences are numerous, this film is an original detonation of Quebec machismo and a convincing call to arms for a generation of women left out of the cinematic articulation of their own experience of Quebec's emergent cultural nationalism."
-- Wyndham Wise (source)
Quotes about La vie rêvée [in French]
"Mireille Dansereau fut l'une des premières à s'en prendre à l'imaginaire des femmes dont, dit-elle, une bonne partie leur a été imposée. À l époque, ces images de complicité entre femmes, sans agression, ont sans doute ouvert des pistes. Aujourd'hui toutefois, nous sommes plus critiques face à cette représentation naïve de la nouvelle liberté des femmes."
-- Louise Carrière (source)

"Une certaine subtilité apparaît [...] dans l'ordonnance et le maniement des scènes oniriques : certaines empruntent la technique classique du ralenti ou de l'image floue, d'autres sont au foyer et tournées à vitesse normale, alors que certaines seront reprises deux ou trois fois. Le spectateur est donc forcé de recomposer, d'ordonner et d'interpréter tous ces éléments. La versatilité de la cinéaste l'y oblige."
-- Agathe Martin-Thériault (source)

"Mireille Dansereau croit davantage à la lutte des sexes qu'à celle des classes et son film [La vie rêvée], qui part du postulat que l'homme et la femme ne sont pas faits pour s'entendre, conclut à la nécessité d'une séparation, d'un cloisonnement entre les sexes. Singulier féminin que celui de Mireille Dansereau. Je tremble à la pensée que la prochaine étape sera celle du féminin pluriel."
-- Luc Perrault (source)

"Isabelle et Virginie, éblouies par les suggestions de la publicité, s'imaginent une vie conforme aux clichés de Coke, de Pepsi et de Miss Clairol. Mais que devient le rêve quand on veut le vivre? Adieux veaux, vaches, vie en rose. Mais Isabelle, délivrée du rêve romantique, et Virginie, unies par l'amitié et la solidarité, seront plus forte pour affronter avec humour la 'vraie vie'. [...] Leur rire sera une force libératrice et , en faisant leur libération, elles participeront à l'évolution sociale et politique de leur pays. Politique, économie et sexisme vont encore de pair. Ce film tout entier est un film politique."
-- Huguette Poitras (source)

"Je dois avouer qu'après ce petit voyage dans cet univers éminemment féminin, on sort quelque peu surpris. On s'attendait à un vibrant plaidoyer féministe; on voit se profiler à la place la description d'un monde chaotique... et féminin. Tant pis pour nos préjugés; et, d'une certaine manière, tant mieux pour le film. Ce qu'il y a de plus grave, c'est qu'on a du mal à s'y retrouver. Et c'est là qu'on reconnaît l'un des défauts les plus criants des premières oeuvres : ce désir d'en rajouter continuellement de peur de ne pas en dire assez. Et c'est dommage, parce que le film, à force de fantasmes, finit par perdre de son impact."
-- Jean-Pierre Tadros (source)
Bibliography for La vie rêvée
Book Chapters
Ibrányi-Kiss, Á. "Mireille Dansereau: 'La vie rêvée'." ["Reprinted from Cinema Canada, no. 5, December-January 1972-3."] In Canadian Film Reader, edited by Seth Feldman and Joyce Nelson, 250-258. Toronto: Peter Martin Associates, 1977.
Longfellow, Brenda. "The Feminist Fiction Film in Quebec: La vie rêvée and La cuisine rouge." In Take Two, edited by Seth Feldman, 149-159. Toronto: Irwin, 1984.
Brief Sections of Books
Bruce, Jean. "Querying / Queering the Nation." In Gendering the Nation: Canadian Women's Cinema, edited by Kay Armatage, Kass Banning, Brenda Longfellow, and Janine Marchessault. Toronto: University of Toronto Press, 1999. (pp. 277-82)
Carrière, Louise. "Les thématiques des femmes cinéastes depuis 1960." In Femmes et cinéma québécois, edited by Louise Carrière. Montréal: Boréal Express, 1983. [in French] (pp. 164-165)
Leach, Jim. Film in Canada. Toronto: Oxford University Press, 2006. (pp. 104-105)
Marshall, Bill. Quebec National Cinema. Montreal: McGill-Queen's University Press, 2001. (pp. 220-223)
Pallister, Janis L. "Women's Cinema." In The Cinema of Quebec: Masters in Their Own House. London: Associated University Presses, 1995. (pp. 118-121)
Journal Articles
Bruce, Jean. "Feminine Identity and Theories of the Intra/Inter National Subject: La Vie rêvée and Anne Trister." Nouvelles Vues, no. 2 (Summer-Autumn 2004).
Bruce, Jean. "Querying or 'Queering' the Nation: The Lesbian Postmodern and Canadian Women's Cinema." Canadian Journal of Film Studies / Revue canadienne d'études cinématographiques 5, no. 2 (Autumn 1996): 35-50.
Longfellow, Brenda. "The Feminist Fiction Film in Quebec: La vie rêvée and La cuisine rouge." Ciné-Tracts 4, no. 4 (Winter 1982): 63-73.
Articles from Newspapers, Magazines, or News Websites
Armatage, Kay. "La vie rêvée." Review of La vie rêvée. Take One (Montreal), December 1972.
Auty, Martyn. "La vie rêvée (Dream Life)." Review of La vie rêvée. Monthly Film Bulletin, October 1978.
Eisler, K. "La vie rêvée (Dream Life)." Review of La vie rêvée. Movietone News, January 1976.
Ibrányi-Kiss, A. "Women in Canadian films." Interview with Mireille Dansereau. Cinema Canada, December-January 1972-1973.
Martin-Thériault, Agathe. "La vie rêvée : Jeunes femmes en proie aux images." Review of La vie rêvée. Cinéma Québec, November 1972. [in French]
Perrault, Luc. "À quoi rêvent les jeunes filles?" Interview with Mireille Dansereau. La Presse, July 29, 1972. [in French]
Perrault, Luc. "Féminin singulier." Review of La vie rêvée. La Presse, July 29, 1972. [in French]
Tadros, Jean-Pierre. "Un collage féministe." Review of La vie rêvée. Le Devoir, July 29, 1972. [in French]
Tadros, Jean-Pierre. "Faire des films pour survivre." Le Devoir, July 29, 1972. [in French]
Dissertation Chapters
Parpart, Lee Anne. "Tube Steaks and Tiny Men, or Feminist Remappings of the Colonial Male Body in Patriotism I and II and La Vie Rêvée." In "Nostalgic Nationalisms and the Spectacle of the Male Body in Canadian and Québécois Cinema," 78-125. M.F.A. diss., York University, 1997.
Web Sites about La vie rêvée
---