Des lumières dans la grande noirceur
Canada, 1991 (documentary, 90 minutes, colour, French)
Also known as "A Vision in the Darkness"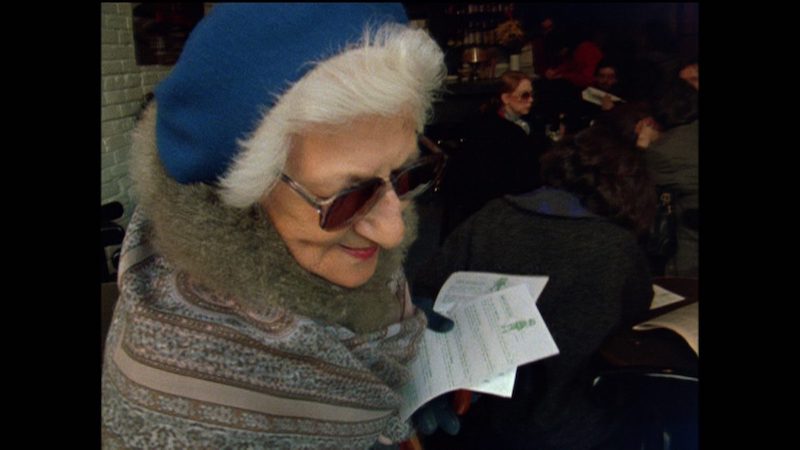 Image: © Les Films du 3 Mars
---
Film Description:
"Through the eyes of a Quebec Jewish activist, Lea Roback, feminist, unionist, pacifist and communist, A Vision in the Darkness proposes a modernist vision of Quebec history, from the beginning of the twentieth century to the period [known] as 'La Grande Noirceur', the Great Darkness."
-- Les Films du 3 Mars (source)
---
Film Credits (partial):
Written by:
Sophie Bissonnette
Produced by:
Sophie Bissonnette, François Bouvier
Participants:
Léa Roback
Cinematography:
Martin Leclerc
Film Editing:
Dominique Sicotte
Music:
Judith Gruber-Stitzer
Production Company:
Productions Contre-Jour
(sources)
Quote by the Director [in French]
"J'avais cette intention depuis le début de partir du plus personnel, la vie de Léa, et d'élargir de plus en plus le propos, pour qu'on retienne surtout le caractère des événements pour les années 40 et 50, compte tenu du matériel dont je disposais. Maintenir constamment l'équilibre entre le portrait et le film historique a posé un grand défi au moment du montage."
-- Sophie Bissonnette (source)
Quotes about Des lumières dans la grande noirceur [in French]
"La caméra de Sophie Bissonette est attentive, elle a cette façon d'écouter qui font les meilleurs documentaires. Elle suit Léa Roback dans les coins de Montréal qui furent pour elle des lieux de combat."
-- Serge Dussault (source)

"Le film de Sophie Bissonnette Des lumières dans la grande noirceur (1991) est un bel exemple de cette reconsidération du passé québécois d'avant la Révolution tranquille, que la représentation mémorielle dominante qualifie de 'Grande Noirceur'. La cinéaste y fait le portrait de Léa Roback, une femme juive, anglophone et militante qui a soutenu les ouvrières de 1910 à 1960 et qui s'est intégrée à la communauté francophone tout en restant elle-même. L'intention de Sophie Bissonnette est, très explicitement, de renverser la représentation que les Québécois se font de cette époque."
-- Christian Poirier (source)
Bibliography for Des lumières dans la grande noirceur
Journal Articles
Evans, Barbara, and Scott Forsyth. "Women and Political Documentary in Quebec." Interview with Sophie Bissonnette. CineAction 28 (Spring 1992): 66-70.
Articles from Newspapers, Magazines, or News Websites
Carrière, Louise. "La Grande Noirceur existait bien avant Duplessis." Interview with Sophie Bissonnette. Ciné-Bulles, vol. 10, no. 4, 1991. [in French]
Droüin, François. "Des lumières dans la grande noirceur." Review of Des lumières dans la grande noirceur. Cap-aux-Diamants, Winter 1992. [in French]
Dussault, Serge. "Un film éclairant...." Review of Des lumières dans la grande noirceur. La Presse, March 23, 1991. [in French]
Provencher, Normand. "Des lumières dans la grande noirceur." Review of Des lumières dans la grande noirceur. Séquences, September 1991. [in French]
Simon, Sherry. "Des lumières dans la grande noirceur." Review of Des lumières dans la grande noirceur. 24 Images, Summer 1991. [in French]
---